Hughes calls for swift resolution to Clattenburg affair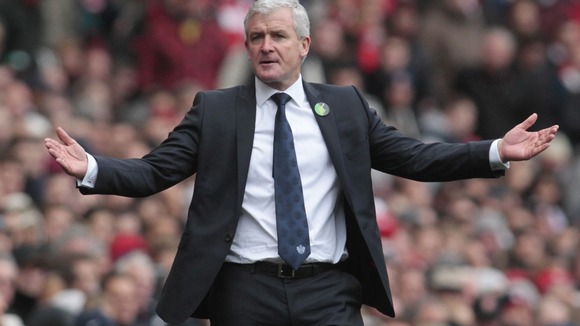 QPR boss Mark Hughes today warned of the perils of allowing the Mark Clattenburg furore to drag on in the same way as the John Terry scandal.
Hughes walked into one of the biggest race rows ever to hit football when he was appointed Rangers boss in January, two-and-a-half months after Terry abused fellow defender Anton Ferdinand at Loftus Road.
Little did he know Terry would not be found guilty by the Football Association for another eight-and-a-half months, a delay that did untold damage to the game's hopes of stamping out racism.
Press Association Sport understands referee Clattenburg categorically denies Chelsea's claim he used "inappropriate language" toward John Obi Mikel during the club's Barclays Premier League defeat to Manchester United on Sunday.
But, as with Terry, police and the FA launched what could be lengthy investigations, and Hughes said: "It's difficult when the authorities get involved, as we found in the case of Anton and John Terry.
"It ended up going on for far too long in my opinion.
"The situation with Mark Clattenburg, the authorities seem to have got involved as well and you don't want it to drag on.
"You would like these things to be addressed very very quickly so people can be allowed to move on, if possible.
"If authorities are involved, these processes seem to take forever and that's not good for football.
"The issues involved are very important and need to be addressed.
"I just think that the process, for every club and individual involved, takes a toll on people and on individual clubs and the game itself, which we all want to protect.
"There is the potential for it to have an effect on the individual and that's a shame because, in the past, things were dealt in house and people were allowed to move on.
"Obviously, the focus is huge and it's hard to do that."
He added: "We all understand that the game is under a huge spotlight at the moment.
"When I was playing, there were more things that were accepted in terms of being under the radar, just because they weren't highlighted as much. That doesn't make it any better.
"Where we are now, everyone has to have an understanding of the focus that's on the Premier League and act accordingly."
Fulham manager Martin Jol echoed Hughes' call for a speedy resolution.
"Hopefully this problem will be resolved in the next week," the Dutchman said.
"When I played, especially in my country, there were always discussions which you would not believe your ears but that was football.
"You made a joke and he made a joke and sometimes it was a bit cynical and sometimes a bit harsh and sometimes ironical but football has changed."
Jol was among those who doubted the accuracy of Chelsea's claims about Clattenburg.
"If he said that, it would be stupid but I can't believe that he said it," said Jol.
"I don't want to talk about it. It's a problem which will be solved in the next week, I am sure."
Asked if he had ever heard a referee using racist language, Jol said: "Referees talk a lot but no, even 30 years ago it was impossible. It was impossible when I played in the Eighties."
Clattenburg's denials are expected to be backed by his assistants and fourth officials, who were mic'd up to the referee on Sunday, although their conversations were not recorded.
Newcastle boss Alan Pardew said: "We should have professional linesmen and they should be all be mic'd up and it should be recorded and that would stop plenty of this that has gone on.
"I don't really have any other opinion than that as we don't know the facts."
The fallout from Sunday's match has also seen referees' relationships with players come under scrutiny, especially whether they should be aloof or familiar.
Aston Villa boss Paul Lambert said: "It's a hard job being a referee. It's a thankless task.
"Being familiar can certainly help."