Wenger and Allardyce voice concerns over Clattenburg affair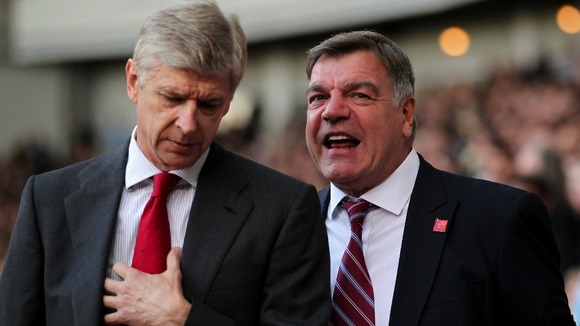 Premier League managers Arsene Wenger and Sam Allardyce have voiced dismay that the law is again involved in football due to the Mark Clattenburg affair.
Clattenburg is being investigated by the Metropolitan Police as well as the Football Association after Chelsea complained the referee had used "inappropriate language" to their player John Obi Mikel.
Chelsea have submitted a dossier of evidence to the FA containing accounts from players, who allege Clattenburg used a term which has been interpreted as racist during last week's stormy clash with Manchester United. Clattenburg maintains his innocence.
The affair has dominated sporting headlines this week and Arsenal manager Wenger is saddened, but believes his club would have dealt with the matter differently.
The Frenchman said: "My opinion is just, I prefer when I didn't behave well, that I have an explanation with the referee at the end of the game, or on another day, than going public with little proof you know.
"I'm not a great believer in making these stories public."
He added: "I am a deep supporter of doing that internally.
"If (football) becomes a sport to make the lawyers rich, I am not a fan of it."
West Ham boss Allardyce has struggled to comprehend how the event has unfolded throughout the week.
He said: "I just think a situation like that is very difficult for everybody to sort out, and then the police are involved as well and it really worries me about where we are going in the game.
"I think if every incident is going to end up in the police's hands then it is going to be sad for the game of football in general.
"Over the last however many years as a manager I've never heard one referee give a bad comment to a player so I found it a very strange thing that has been reported, but only the authorities can decide if it has or hasn't happened."
The alleged incident overshadowed a dramatic game at Stamford Bridge which United won 3-2 against a Blues side with nine men.
Chelsea exacted a measure of revenge with a 5-4 victory when the sides met again at the same venue in the Capital One Cup fourth round on Wednesday.
Wigan manager Roberto Martinez said: "The game, from a football point of view, was of the highest quality, and I think that's what we should be talking about.
"What happened with the referee is something that has to be sorted - obviously there is a process there and I'm sure that whoever is in charge of that will look into it.
"I'm glad on Wednesday night everything went back to what it should be, talking about football and talking about two outstanding teams."
Press Association Sport understands Clattenburg will receive the full backing of his fellow officials during any investigations.
Assistant referees Michael McDonough and Simon Long, and fourth official Michael Jones did not hear anything untoward said on their linked headsets and are expected to say as much in any testimony.
Clattenburg and his colleagues were said to be stunned at claims made by an angry Mikel, who confronted the referee in his room at Stamford Bridge after the final whistle on Sunday.
Mikel or Chelsea could yet find themselves charged by the FA if it is shown the midfielder and manager Roberto Di Matteo failed to adhere to the mandatory 30-minute cooling off period before asking to speak to the official, or made threats towards him.