Tranmere boss Moore fully prepared for cup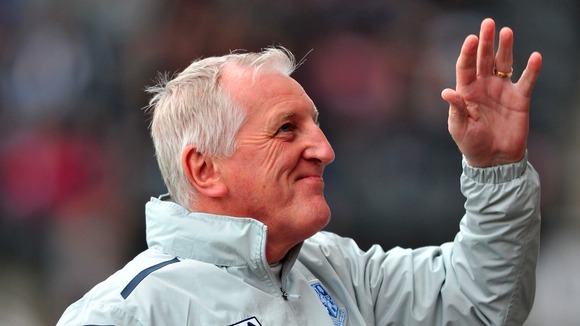 Tranmere boss Ronnie Moore has left no stone unturned to make sure his team are not the victims of an FA Cup upset when they travel to non-league Braintree.
Rovers have surprised many this season with their surge to the top of npower League One but Moore is aware that defeat to the Blue Square Bet Premier side would provide an even greater shock and he insists his team are fully prepared.
He told Tranmere Player: "We never got a chance to see them last week with their game being called off but we've looked at an awful lot of DVDs. We've looked at this more than any other league club all season just to make sure we don't trip up.
"If you go to Luton and win and Hereford and draw, we know we're in for a tough game. I've been involved in a lot of first round FA Cup ties against non-league teams and I've won a few and also lost a few.
"We don't know a great deal about their players. We know their shape and formation but our players haven't seen them. It's not like you're playing against MK Dons or whoever where you know who you're playing against."
The Iron finished 12th last season after promotion from Blue Square Bet South but currently sit precariously above the relegation zone.
The televised cup tie will be one of the biggest events in Town's history and only the second time they have been in the main draw but Moore is hoping his players can use the spotlight to spur them on as well.
"It's a big opportunity for our players as well as theirs," he said.
"We're on the TV - who's watching? If you have a cracker and get three goals then your name is up in lights."
Leyton Orient also face a trip to non-league opposition as they travel to take on Blue Square Bet North side Gloucester.
A shock win for the Tigers would put them into the second round for the first time since 1989 when they took Cardiff to a second round replay and defender Mike Green is delighted the team he has followed all his life are back in the first round proper.
"I've always supported Gloucester and looked out for the results whatever club I've been at," he told the club's official website.
"It's a great achievement and we've wanted to get this far in the cup for a long time, the club deserves it and the fans deserve it.
"We know we are going in as massive underdogs, but that's the magic of the cup, there are always surprises."
In Sunday's other ties, Plymouth make the trip down the coast to Dorchester while Burton host Altrincham.