Match preview: Real Madrid v Borussia Dortmund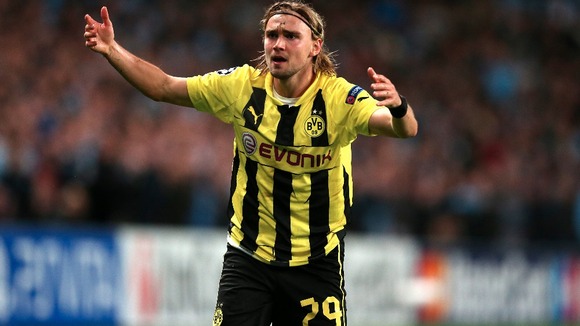 Borussia Dortmund defender Marcel Schmelzer is braced for a Champions League backlash from wounded Real Madrid but is confident his side can withstand whatever the Spanish giants throw at them.
Dortmund head to the Bernabeu boasting a one-point lead over Madrid at the top of Group D after beating Jose Mourinho's men 2-1 in Germany a fortnight ago.
Another victory would leave Dortmund within touching distance of a place in the last 16, but Schmelzer is not expecting an easy time of it against a Madrid side who have won seven successive Champions League matches on home soil while scoring an average of almost four goals per game, and whose only defeat in their last 10 competitive fixtures came at the hands of Jurgen Klopp's side.
However, the Germany international also has faith his side can get something out of their trip to the nine-time European champions.
"The Real players were all really angry after losing at our place and they are going to try to run us down, but we will resist," said Schmelzer, who scored the second goal against Madrid and was also on target in last week's 4-1 cup win over Aalen.
Schmelzer's team-mate Mats Hummels is also up for the fight, adding: "They will want revenge, but challenges like this are really exciting. I have no idea what to expect there, but the atmosphere is meant to be unique."
Since losing to Dortmund, Madrid have racked up three successive victories in league and cup, scoring 13 times and conceding just once.
On Saturday they thrashed Real Zaragoza 4-0 at the Bernabeu to climb into the top three of La Liga and earn Mourinho his 100th win in his 133rd match as Madrid coach.
Despite the loss in Dortmund, Madrid midfielder Sami Khedira has no doubts his side will finish in the top two of Group D, and hopes it is his fellow Germans who join them in the last 16.
He told the Bwin website: "Real Madrid and one other team will go through. I'll leave that open. But obviously for me, as a German, it would be great if Dortmund qualify because I think they also deserve it.
"They have been German champions two years running and are now playing very well in the Champions League.
"Personally I would be very happy for them. Although what I hope is that Real Madrid finish in first place, and the rest does not matter to me."