Clarke has faith in Myhill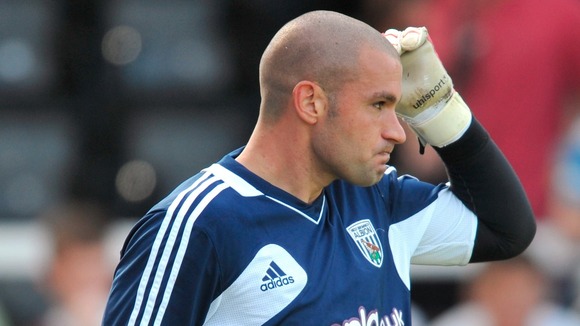 Steve Clarke is backing Boaz Myhill to fill the gap left by West Brom number one keeper Ben Foster, who is struggling to recover from a groin injury in time for Saturday's clash at Wigan.
Foster was today seeing a specialist in Germany to determine the extent of his recurring problem.
The former England international was below full fitness for Monday night's 2-0 home win over Southampton and was unable to kick with his preferred left foot.
Foster was ruled out of the final game of last season against Arsenal at the Hawthorns with a groin injury and also missed part of pre-season.
But head coach Clarke has faith in Myhill who, if he faces the Latics, will be making his first Baggies appearance for 21 months since the opening game of the Roy Hodgson era.
He said: "We've got good back-up keepers here. Myhill played on loan in the Championship last season (at Birmingham) and had a really good season.
"He trains well every day and, if I have to rely on Boaz to play, I would be happy with that."
Clarke is still hopeful Foster, 29, can play at the DW Stadium and believes the odds are "60-40" in favour of the former Manchester United player.
He said: "Ben is in Germany. Most of you noticed on Monday night that he was kicking with his right foot and not his left foot.
"He has gone out to see a specialist. We are awaiting on the diagnosis. Fingers crossed, it is positive and I'm hopeful that he is available to play again at the weekend, kicking with his right foot.
"It is a problem with his groin. That is why we are sending him out to see the specialist and hopefully it is something we can manage, similar to what we have done with Shane Long's hamstring over the last few weeks.
"If we can manage it, hopefully we can get a few more games out of him."
Clarke admits he has no knowledge of whether Foster has been troubled in the past with his kicking.
He said: "Ben has never mentioned that he has got problems with his kicking to me.
"I know he likes to play from the back, he doesn't always like to kick the ball long but he has a good kick on him.
"We will deal with it and hopefully he is okay for the weekend and we can talk about football and not injuries."