My desire is to keep Walcott - Wenger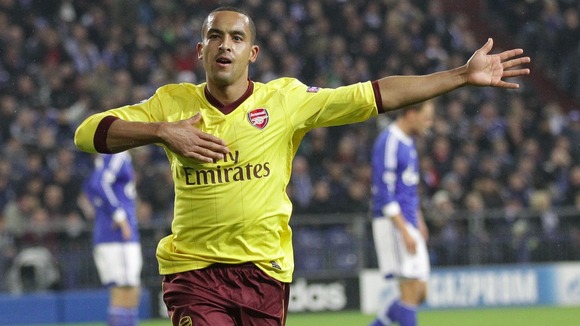 Arsenal manager Arsene Wenger tonight insisted the club are doing all they can to keep Theo Walcott as he stressed the ongoing contract wrangle must be settled "one way or another" before the new year.
The England forward took his tally to eight goals for the season with the opening strike in the midweek Champions League draw at Schalke.
It was a rare start for the 23-year-old, who has seen his first-team chances restricted to mostly being utilised as an impact player from the bench.
The player's current deal expires next summer, with his representatives and the club still some distance apart over wages and Walcott also expressing concerns over opportunities in his preferred central role.
If no deal can be brokered before January, Walcott would be able to negotiate a potentially lucrative pre-contract agreement with a foreign club or just hold firm and walk away on a Bosman free.
While Wenger would prefer the situation not to get to that point, the Arsenal manager accepts a line must soon be drawn.
"My desire is to keep Theo. We do what's needed to keep him and hopefully [as] I told you many times, we can sort this situation out very soon - very soon is before the end of December, one way or another, that is for sure," said Wenger.
The Gunners boss was at Great Ormond Street Hospital this afternoon along with Jack Wilshere and Carl Jenkinson to help open the Arsenal Lung Function Unit.
On Walcott, he added: "I don't want to go into any details [over wage negotiations], but you can believe me [that] we do the maximum we can to keep our best players."
Like Walcott, Germany international Lukas Podolski, signed from Cologne in the summer, has expressed a desire to lead the Arsenal attack, rather than be deployed out wide.
Wenger, though, has no concerns over a player tactical revolt.
"I don't find many players who don't want to play central," he said.
"Podolski has 101 caps in Germany, and 101 on the left. I brought him as well with the idea that, when needed, he would play through the middle.
"I like the idea, but we will use him where he is useful for the team."
Wenger feels Arsenal have plenty of options in attack, despite having seen main striker Robin van Persie sold to Manchester United in the summer.
"It is not a problem - not at all. I believe it's important to have potential central strikers," the Arsenal manager added.
"We have Walcott, Podolski, of course Gervinho can play through the middle.
"We still have [Olivier] Giroud and [Marouane] Chamakh so it's good to have plenty of players who want to play there and [can] be capable to play there."
Goalkeeper Wojciech Szczesny is close to a comeback from his ankle problem and could be included in the squad for Saturday's visit of Fulham.
Midfielders Aaron Ramsey (groin) and Alex Oxlade-Chamberlain (hip) face fitness tests.