Wenger: Flat Emirates atmosphere is team's fault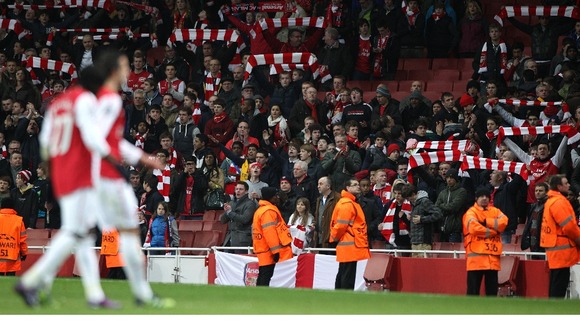 Manager Arsene Wenger has challenged Arsenal to lift the "flat" atmosphere at the Emirates Stadium by turning on the style against Fulham tomorrow.
The Gunners head into the clash with the Cottagers looking to bounce back from last weekend's defeat at Manchester United, and build on the midweek Champions League draw away at Schalke.
Wenger admits recent lacklustre displays have left the Arsenal fans less than impressed, but maintains it will be the team's duty to get them off their seats again tomorrow.
"We just have to play good games. The atmosphere comes from the team, not the fans, and we have to think like that," Wenger said.
"The vibes come out with the quality of our game, the fans are behind the team. That is what is about us.
"I agree we had one or two flat games at home, especially against Schalke, even the game against QPR.
"I believe that it is down to the quality of our game - that is our responsibility."
While Arsenal may be struggling for consistency to climb up into the top four, Fulham head into the weekend on the back of a four-match unbeaten run, with only one defeat in the last seven league games, and are level on points with the seventh-placed Gunners.
Wenger knows Martin Jol's side will represent another stern test of his squad's character.
"Fulham are very efficient going forward," the Frenchman said.
"They have [Hugo] Rodallega, they have of course [Dimitar] Berbatov, and offensively they are a side who creates many chances and who scores goals - 21 goals is quite impressive in 10 games."
Goalkeeper Wojciech Szczesny is close to a comeback from his ankle problem and could be included in the Arsenal squad tomorrow for the first time since mid-September.
Vito Mannone has performed well as his deputy, and the Italian is determined to hold onto the jersey even when the Poland international is fully fit again.
Wenger feels that 24-year-old Mannone, who found himself farmed out on loan to Hull last season, has "handled the situation very well".
However, the Arsenal manager indicated Szczesny, who made a couple of handling errors in his appearances earlier this season, is likely to eventually come back into the side.
"When both Vito and Woijech are fully fit, then we will see," said Wenger.
"Wojciech is the number one, so when he is truly fit, I will make that decision, but at the moment it is Vito who will play on Saturday."
Arsenal will, though, be without suspended midfielder Jack Wilshere tomorrow after his red card at Old Trafford.
The 20-year-old has only just come back from a long injury lay-off, and was recalled to the senior England squad for next week's friendly in Sweden.
Despite the clamour surrounding his return to action, Wilshere knows he must earn his place at the heart of the Arsenal side, with summer signing Santi Cazorla adding to the strengths of Mikel Arteta, Alex Oxlade-Chamberlain, Francis Coquelin, Aaron Ramsey and, when fit, France international Abou Diaby.
"You can see that there is great competition now throughout midfield," Wilshere said on www.arsenal.com.
"That is what players need - if you are guaranteed a place every week maybe you can just go easy, but with the competition we have at Arsenal in midfield, it is good for everybody.
"I am excited about playing with all of them, and you can see already that we are gelling.
"A couple of months ago none of the new boys even knew each other or the rest of the squad, but good players just fit in - for example with Santi Cazorla, you can tell he is just a natural footballer.
"The manager has proved in the past that he signs talented players and this is the case again."