Gerrard's father to receive centenary England shirt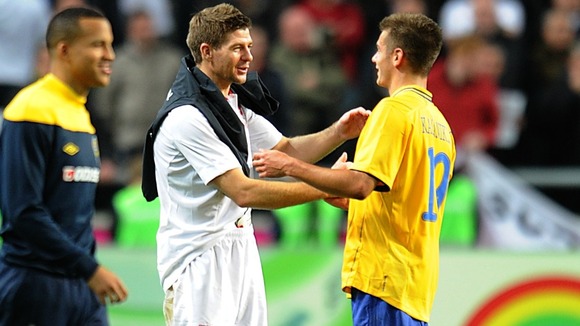 Steven Gerrard will give the England shirt he wore when winning his 100th cap as a Christmas present to his father Paul.
Three Lions captain Gerrard achieved the milestone during last night's 4-2 defeat against Sweden in the Friends Arena.
He became only the sixth England player to reach a century of appearances.
Gerrard said: "To get there was a very proud moment for me.
"I have been really touched by all the support and all the good wishes I have had - from family, friends and everyone in the game.
"The shirt I wore during the game, I will give it to my dad. It will be a nice Christmas present for him.
"He has been with me since day one, shown me fantastic support. My dad has watched me kick a ball since I was seven.
"He always gave me the advice 'you get out of your career what you put into it' and I've always taken that on board.
"All the way through, I've made sacrifices and tried to work hard and, every time I go onto the pitch, I give it everything I've got."
Gerrard insists he still has plenty more to offer his country at the age of 32 - 12 years after making his debut.
He said: "Are there more caps to go? Yes, I feel good, I feel fit, I'm happy with my form in an England shirt so on I go and I'm looking forward to the next game."