Reina ready to prove worth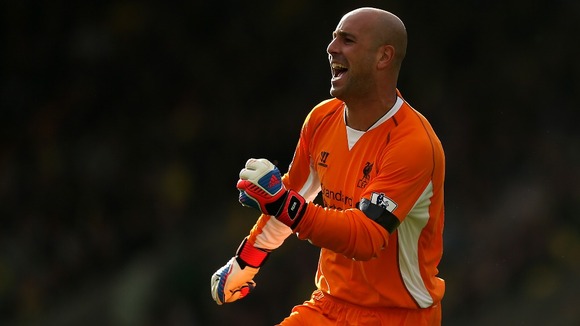 Returning Liverpool goalkeeper Jose Reina is determined to prove his position as first-choice cannot be questioned after a long injury break.
The Spain international made his first appearance since October 7 because of a hamstring injury in Saturday's 3-0 win over Wigan.
While he has been out Brad Jones seized the chance to show what he can do but once Reina was declared injury-free he was immediately restored to the starting line-up.
Manager Brendan Rodgers has always said the Spaniard was his number one but questions started to be asked because of the form of Jones and a shaky 18-month period Reina has endured.
The goalkeeper himself insists he is his own worst critic.
"I have to prove every day to myself, not to anyone in particular, I want to give my best to the team," he said.
"I am happy with that. I will try to encourage myself to be a better keeper and that is what I am doing now.
"Brad has been excellent, very composed, and he has played very well so I was happy for him.
"Obviously it has been the longest spell (out) since I was here.
"I was not playing at Barcelona because I wasn't on the bench but being fit and available it has never been so long.
"It is always nice to get back in the team and it was worth it to wait longer so as not to have any problems with injury coming back."
Reina may lose his place to Jones in midweek for the Europa League tie at home to Young Boys but personal pride means he does not want to step aside willingly.
"We all want to play every game so that is for the manager to decide and I will be ready if I am involved," he added.
Striker Luis Suarez was the star of the show against the Latics with two goals and a hand in the third for Jose Enrique.
This week reports emerged speculating Manchester City were poised with a £40million bid for the Uruguay international.
They were dismissed by City boss Roberto Mancini but Reina admits he is not surprised other sides would be interested in Suarez, who is the Premier League's top scorer with 10.
"Luis is on fire. He is in really good form and he looks like he can score every game and for us that is very important because we need to profit from that," added the goalkeeper.
"He will attract the interest of many clubs, it is only normal, but he is quite happy at Liverpool and that is the important thing for us and the supporters.
"Jamie Carragher said even if he is not the best player then he is the player in better form than anyone in the league right now.
"He is certainly a world-class striker and that is a good thing he is playing for Liverpool."
Carragher rates Suarez as high, if not higher, than the great forwards he has played alongside at Anfield and feels he is irreplaceable.
"I think he is definitely right up there," the veteran defender told BBC Radio 5 Live's Sportsweek.
"I can only talk about the players I've played with (Robbie) Fowler, (Michael) Owen, (Fernando) Torres and I think he comes pretty close to that list.
"It's not a great Liverpool side at the moment. The other players I've played with have played in sides that have won trophies and been near the top of the league.
"For him to do what he is doing in a side that is still building under the new manager I wouldn't swap him for anyone in the Premier League.
"I think what he does in our team and what he gives us no other player really could."