Bundesliga review: Allofs makes Wolfsburg switch, Voronin stirs up trouble
by Ben Loder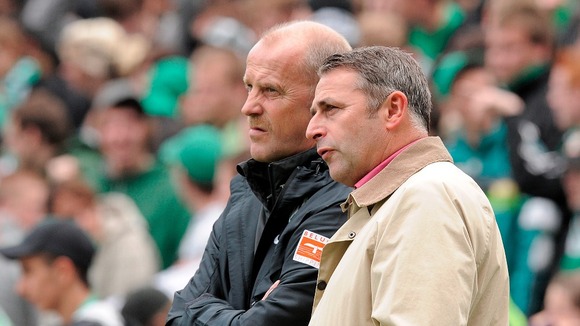 Although the Bundesliga weekend brought an impressive 28 goals, much of the attention was on off-field events, in particular Klaus Aloffs' decision to leave Werder Bremen after 13 years to take on the vacant role of sporting director at VfL Wolfsburg.
While the head coach he leaves behind in Bremen, Thomas Schaaf, was straight to the point as ever – "Obviously I'm not happy" – the switch makes a mockery of Aloffs' comments to German football magazine 11 Freunde last month.
Asked whether he would accept €150 million from a sheikh to spend on transfers at Werder, Aloffs said: "Only if it were a gift that remained private. Otherwise the expectations grow exponentially from one day to the next.
"Take a look at Wolfsburg," he added pointedly. "Looking at the basic framework, their fans should be happy just to play in the Bundesliga. But with the investment of a major company like VW, taking part is no longer the be-all and end-all."
Aloffs' reported €3 million salary may have made those high expectations more palatable.
The interviewer was also polite enough not to point out that Volkswagen is also one of Bremen's main sponsors, a fact that reportedly eased the move – rumours abound that in return for Werder giving up Allofs' services, VW will extend its sponsorship contract with improved terms.
On the pitch, in their first match with the new man at the club, Wolfsburg continued their post-Felix Magath recovery with a 3-1 victory in Hoffenheim, playmaker Diego again demonstrating the ability that encouraged a certain Klaus Allofs to bring him to the Bundesliga to play for Bremen back in 2006.
Werder, meanwhile, showed no ill effects from having lost their director of football, coming from behind to win 2-1 against Fortuna Düsseldorf.
Fortuna travelled to Bremen without Andriy Voronin, whose year-long loan from Dynamo Moscow may yet be cut short after a week of controversy.
Despite being signed off sick by the club doctor, Voronin was seen celebrating his wife's birthday into the early hours of Wednesday morning, and then proceeded to show reporters the middle finger when he did return to training.
At the start of the month he had already admitted he felt he didn't "fit in to this team" and this week told Bild on Sunday that he is "fed up". Any suggestion that the whole saga is an attempt to engineer a return to the near-strikerless Anfield would be, ahem, pure speculation.
FC Schalke 04 lost 2-0 in Leverkusen and thus failed to capitalise on the weekend's surprise result, as Bayern Munich dropped points in a 1-1 draw at Nürnberg that still puts the Rekordmeister eight points clear of Schalke and Eintracht Frankfurt at the top of the table. After the match in Franconia, Manuel Neuer was unimpressed by a reporter's suggestion that he was at fault for der Club's goal, retorting, presumably rhetorically: "Are you taking the p*ss? If you were a football person you'd understand."
The scorer of said goal provided the week's heart-warming human-interest story – it was midfielder Markus Feulner's first start and first goal since his 54-year-old father tragically died in a hovercraft-racing accident two months ago.