Chelsea appoint Benitez until end of season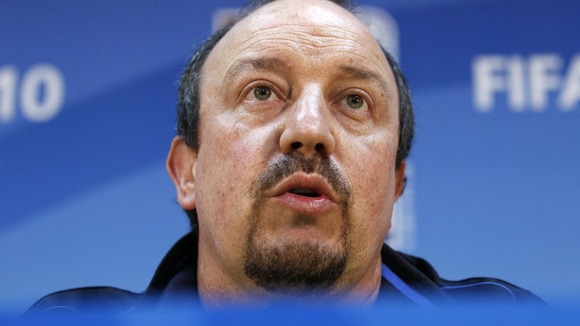 Roman Abramovich completed arguably his most controversial day yet at Chelsea after appointing Rafael Benitez to succeed Roberto Di Matteo as manager.
The Russian handed the former Liverpool boss a contract until the end of the season, having seemingly been unable to woo Pep Guardiola, the man said to be his number one target.
Announcing that Benitez was an "interim" rather than permanent appointment, Chelsea said in a statement: "Chelsea Football Club can confirm Rafael Benitez has been appointed interim first-team manager until the end of the season.
"The owner and the board believe that, in Benitez, we have a manager with significant experience at the highest level of football, who can come in and immediately help deliver our objectives.
"The 52-year-old Spaniard is due to meet the players at the training ground in Cobham tomorrow.
"The two-time UEFA Manager of the Year comes with outstanding pedigree.
"He began his managerial career in his homeland, most notably at Valencia where he built a reputation as one of Europe's top coaches by winning the Spanish League twice and the UEFA Cup.
"He then spent six years at Liverpool and led them to their fifth European Cup and an FA Cup."
The length of Benitez's contract appears the clearest indication yet of Abramovich's determination to land Guardiola once the former Barcelona boss completes his one-year sabbatical.
Tonight's announcement was also the culmination of a breathless 24-hour period that was extraordinary even by Chelsea's standards.
What began last night with Di Matteo finally axing Fernando Torres against Juventus, ended this evening with the arrival of the man who made the £50million flop one of the best strikers in the world but became a man largely disliked among his new club's supporters.
In between all that, Di Matteo joined the ever-increasing list of men to be ruthlessly sacked by Abramovich, who is now on his ninth manager in a little over eight years.
It would be no exaggeration to say Benitez would be the least popular of his appointments judging by the reaction of Chelsea supporters on social media.
The Spaniard's Liverpool links, run-ins with former Blues boss Jose Mourinho and mixed records at both Anfield and Inter Milan were all criticised.
But that failed to deny Benitez, who spent today in Abu Dhabi, from where he agreed a contract with Chelsea after leaving little doubt about his interest in them.
He told Sport360: "I am looking for a club that can challenge for trophies and Chelsea is one of these clubs."
That was much the same as he said earlier this year before watching Di Matteo pick the Blues up off the floor to inspire the greatest climax to a season in the club's history.
But not even delivering Abramovich's Holy Grail of the Champions League - as well as the FA Cup - could spare Di Matteo becoming the latest victim of the most uncompromising owner in football.
Last night's 3-0 defeat at Juventus was the final straw for Abramovich, who it is understood had already been considering wielding the axe following an alarming slump in form.
He wasted little time after Di Matteo's radical tactics and team selection backfired spectacularly in Turin, where Chelsea suffered their worst ever Champions League group stage result to leave them on the brink of becoming the first holders to crash out before Christmas.
Abramovich instructed chairman Bruce Buck and chief executive Ron Gourlay to deliver the bad news, which they did at around 4am at the club's training ground following the team's return flight to London.
It is understood Di Matteo was far from shocked by the decision and had already said what amounted to a farewell to some of his players prior to the meeting.
Chelsea waited until 9am to confirm his departure "The team's recent performances and results have not been good enough and the owner and the board felt that a change was necessary now to keep the club moving in the right direction as we head into a vitally important part of the season," a statement read.
"The club faces a difficult task ahead in qualifying for the knockout stages of the Champions League, as well as maintaining a strong challenge for the top of the Premier League while competing in three other cup competitions.
"Our aim is to remain as competitive as possible and challenge strongly on all fronts.
"The owner and the board would like to thank Roberto for all he has done for the club since taking over in March.
"Roberto helped guide us to an historic Champions League victory and a seventh FA Cup. We will never forget the huge contribution he has made to this club's history and he will always be welcome at Stamford Bridge."
On paper, the decision to sack Di Matteo looks the most brutal of Abramovich's near-decade at Stamford Bridge and it is understood the Russian was warned it could result in a backlash.
But he was never 100% convinced Di Matteo was the man to implement his vision of seeing 'Barcelona in blue shirts', despite rewarding the Champions League triumph with a two-year contract.
That deal had a clause allowing both parties to review the arrangement next summer and it was unclear today whether Di Matteo was entitled to be paid for the remainder of the agreement if he failed to find work in the next 18 months.
Chelsea will almost certainly stop paying him the moment he does join a new club, which is unlikely to take too long for a man with his new-found pedigree.
He could be followed by assistant Eddie Newton who, as of this afternoon, was still in a job.