Hodgson: Youngsters can improve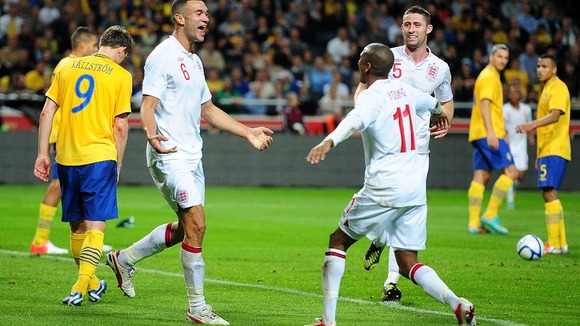 England boss Roy Hodgson claims the new generation of young players can fill the gap in technique that the national side has been lacking.
Hodgson admits that England's passing and possession at Euro 2012 were sub-standard and that improvements are needed if they are going to be a force at the World Cup.
The England manager gave debuts to 17-year-old Raheem Sterling and Steven Caulker, 20, against Sweden last week, while 20-year-old Jack Wilshere, 21-year-old Danny Welbeck and 19-year-old Alex Oxlade-Chamberlain are key members of the squad for the World Cup qualifying campaign.
Hodgson told talkSPORT: "Obviously I think we need to pass better. One of the things we thought coming back from the Euros that we need to improve is the quality of our passing and the possession side of our game, but possession in the right sense.
"It's possession when you cross the halfway line and what you do in the final third.
"To do that you need some players who can manipulate the ball, deal with the ball, beat a player and I'm really quite pleased that there are young players coming through who have got those qualities.
"I want an England team to go to a World Cup and compete well there and I think to do that we have got to make certain improvements. We accept that the game is getting a lot faster, we need pace in the modern game, we need technique and I think in some of the younger players coming through we have got these qualities.
"What it means is that you are a little bit reliant on these 20 to 22-year-olds who haven't played that many games and sometimes you can face the criticism that you are selecting a player who is maybe only a bit-part player for his team."
Hodgson also insisted that England cannot suddenly become like Barcelona because players cannot be forced into a system.
He added: "Football teams have got to be based on what players you have. You can't have a philosophy or a dream of 'this is how I'd like my team to play' unless you have the players that fit.
"The important thing is to marry philosophy with what's available at the time and we were a little unlucky in the Euros in terms of our attacking strength because we had a lot of new players.
"Andy [Carroll] and Danny Welbeck were very much new players, Jermain Defoe had always been part of the England set-up without necessarily being a major part of it and Wayne Rooney had to sit out a long period through injury and suspension."
"The system has to fit the players."
Hodgson also admitted that he still felt disappointed at being sacked by Liverpool after just six months in charge.
He said: "I did realise it was a period of flux and with new owners coming in they couldn't guarantee what would happen.
"I am not sore, angry or bitter, just a bit disappointed that I didn't have a bit more success and a chance to get my feet under the table there."