Scenes compared to 'urban warfare' as Spurs fans are injured in Rome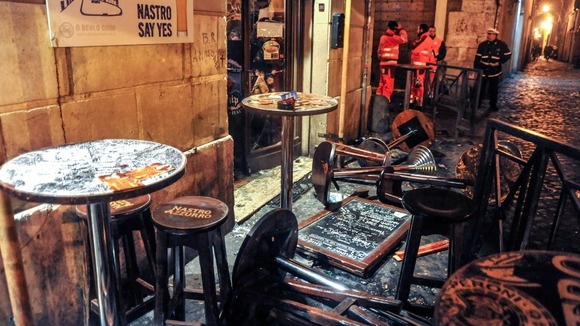 English football fans have been attacked in Italy by knife-wielding hooligans, leaving two seriously injured in hospital, according to reports.
Trouble flared ahead of tonight's Europa League game between Tottenham and Lazio in Rome.
Italian newspaper La Repubblica reported scenes of "urban warfare" erupting in the early hours of this morning shortly after 1am in the Campo de Fiori with up to 100 "Ultras" - notorious troublemakers - attacking a band of Spurs fans.
The English supporters were enjoying drinks when the attackers - wearing motorcycle helmets and brandishing weapons including knuckle-dusters, broken bottles, and baseball bats - smashed their way in.
Sources named four of the injured as Ashley Mills, Dave Lesley, Stephen Tierney and Christopher Allen.
Mr Mills is said to have been stabbed and was seriously ill in the city's San Camillo Hospital.
A spokesman for the mayor's office said the attack was "obviously organised".
Italian website Corriere Della Sera reports the British casualties are all men - aged between 20 and 60. It shows images of the damage done to the pub following the attack.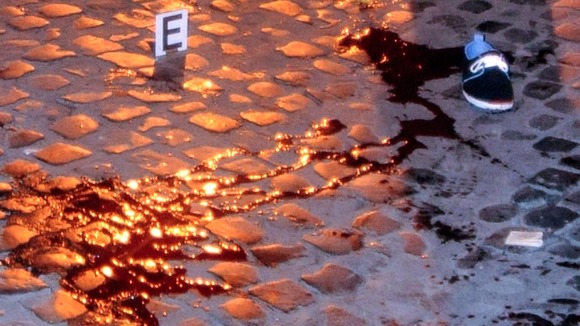 A spokesman for Tottenham said: "We understand from local police that nine of our supporters suffered injuries last night following an incident in the city centre.
"Three of these supporters were taken to hospital for further treatment. We continue to seek further information and are liaising with both Italian and UK police on this matter."
The bar was wrecked in the attack and two tourists are also thought to have been injured. Rome police said the victims included a Californian and a Bangladeshi.
One witness told La Repubblica: "We feared the worst."
This morning, there was no response from the American-owned bar, which is situated in one of the most visited squares in the centre of Rome.
Three victims are being treated at the Holy Spirit Hospital and three others at Fatebenefratelli.
A police spokesman said: "A group of about 40 or 50 people in motorcycle helmets or with their faces covered were armed and attacked the group of English football fans drinking in Campo de Fiori square."