Rodgers unhappy over disallowed goal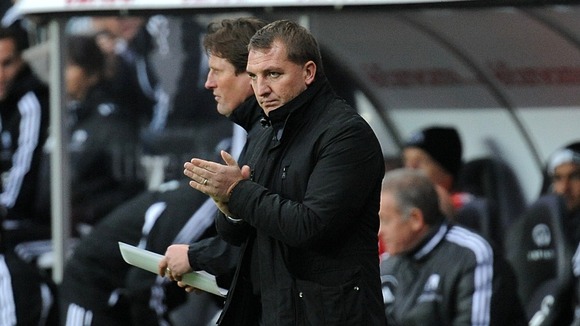 Liverpool boss Brendan Rodgers felt his side had a perfectly good goal ruled out as his "emotional" return to Swansea ended in a goalless draw.
The Northern Irishman was given a good reception by the Liberty Stadium faithful, but he could not leave with the three points as the Reds failed to make the most of the superiority they enjoyed for much of the opening hour.
The closest they came to a goal was Jose Enrique's close-range first-half effort from Luis Suarez's delicate pass, but it was chalked off for offside by the assistant referee.
Rodgers said: "We were unfortunate with the offside goal we had ruled out; that was a goal, I have seen it on the replay.
"But we are now eight games unbeaten and we are chipping away and our method was good today."
Enrique and Glen Johnson also wasted presentable chances for the Reds, while Raheem Sterling hit the bar and conspired to bungle a two against one situation with Luis Suarez as the pair bore down on Swansea left-back Ben Davies after a rapid break.
Rodgers admits his side need to be more clinical as they look to continue the progress being made at Anfield.
He said: "The difference is that little bit of quality in the final third and that's something we will look to improve on as time goes on.
"But I was pleased with our build up, creativity and method and we were just a bit unfortunate with the offside goal and the chance we had with the two v one.
"It was a great opportunity to be two against one on a young defender. It was one where as a coach you look at it and think if Luis had gone three or four more yards he would have committed him and Raheem would have been in on goal.
"It looked like he played the pass too early and Raheem then gave him a ball that knocked him wide on the return.
"We would have hoped to be more clinical on that but that is experience, he is only 17."
Rodgers praised the home support for the greeting he received.
He said: "It was very respectful and I thank them for that, I will always remember my time here with good memories.
"It was an emotional return, I have seen so many people I shared great moments of my life with. It is a fantastic place to come back to and I was really looking forward to coming back to it."