Wenger calm despite Villa draw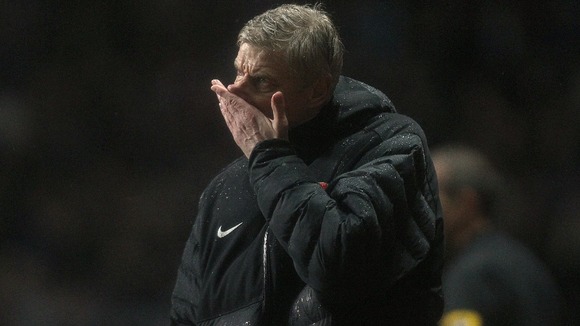 Arsene Wenger has refused to press the panic button despite the growing gap between Arsenal and the Barclays Premier League pace-setters.
The Gunners looked lethargic and devoid of inspiration as they fought out a goalless draw at relegation-threatened Aston Villa yesterday evening.
Arsenal qualified for the knockout stages of the Champions League in mid-week, but are losing ground in the battle to ensure an automatic place in next season's competition.
They are 10 points behind leaders Manchester United and six behind West Brom who were in the third automatic spot after yesterday's matches.
Fans also chanted 'you don't know what you are doing' after a late substitution saw Olivier Giroud replaced by Francis Coquelin.
But Wenger appears unconcerned and pointed to the early part of last season when Arsenal were written off but still clinched a Champions League spot.
He said: "I would like to show what you (the media) wrote about us last year in September, October (when Arsenal were struggling).
"Why should we panic? We will worry about our next game and we will play that.
"We are focused on the next game. Don't worry for and about us too much."
Wenger believes playing a third game in quick succession, after the wins over Tottenham and Montpellier, was the reason for his side's lack of spark.
He also opted to rest Jack Wilshere after a recent run of matches following his lengthy lay-off.
He said: "I think it (the performance) was a result of fatigue and we had not 100% recovered from playing on Wednesday night (against Montpellier).
"After a Champions League game, and then you have to play away from home, it can happen that you draw.
"We could have won the game, we could have lost the game. You have to respect Aston Villa as well.
"We certainly had the right attitude but there was a lack of sharpness and fluency in the final third of the pitch."
On midfielder Wilshere's omission, Wenger said: "It was the sensible thing to do. He has played a lot of games recently and is coming back from a long spell of not playing.
"It's not the thing you want to do, play him or bring him on when he's tired. It made sense for him not to play."