A fiery atmosphere in the Bundesliga
by Ben Loder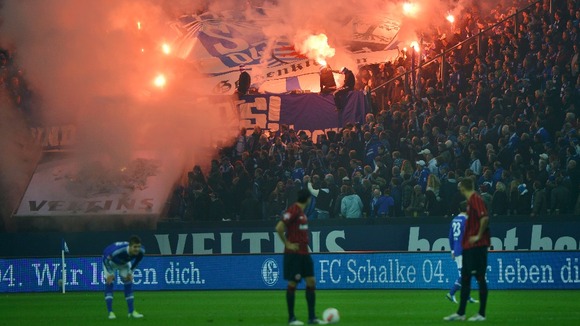 A small group of HSV fans set the tone for a weekend that had a leitmotif of ill-discipline in the Friday evening match in Düsseldorf – their atmospheric pyrotechnic show in protest at German football authorities' treatment of fans inadvertently set one of the ultras' own banners alight. The away side's performance on the pitch was far less spectacular, with Fortuna running out comfortable 2-0 victors. However, the more significant loss for HSV might be that of their star man Rafael van der Vaart. Injured in the first half, he admitted after the game that he had torn a muscle, which could see the former Spurs man out for a while.
Meanwhile, the head of German referees, Lutz Michael Fröhlich, added fuel to some metaphorical flames by publicly criticising the conduct of Borussia Dortmund boss Jürgen Klopp towards officials. Fröhlich claimed that Klopp's often verbally aggressive touchline behaviour was a contributing factor in lower-league referees being physically attacked. Dortmund director Hans-Joachim Watzke quite reasonably pointed out that Fröhlich was unfairly "comparing apples and oranges", but then went on to make himself sound a couple of peaches short of a strudel by maintaining that Klopp is "committed and impulsive during matches, but not aggressive". In fairness, the Schwarzgelben boss was comparatively passive on Saturday as Borussia defeated his former charges Mainz 2-1 to move up to a season-high second place.
Schalke and Frankfurt went into their game on Saturday in second and third respectively, and inadvertently did leaders Bayern Munich a huge favour by drawing 1-1. The match was in keeping with the pattern for the weekend; first a group of Schalke ultras gave their HSV equivalents a run for their money in self-sabotage terms by squeezing in afinal terrace fireworks display before their stadium ban kicks in on Tuesday "We're real Schalke fans, not you" sang unimpressed on lookers in the North Stand), then Frankfurt's Karim Matmour was shown a second yellow late on for a genital-high challenge on Roman Neustädter that the referee somehow didn't deem worthy of a straight red.
In reality though, both Schalke and Frankfurt will probably be satisfied if they can hang on to their Champions League spots until the end of the season – not so Bayern Munich. The team moved eight points clear at the top of the Bundesliga and qualified from their Champions League group with a game to spare over the last week, and thus might have been slightly disgruntled to hear one of their own directors, club legend Karl-Heinz Rummenigge, describe them as "boring" and insist that they "wake up". They responded like true champions-elect, however, with Mario Gómez capping off an irresistible 5-0 thrashing of Hannover 96 just 20 seconds into his first Bundesliga appearance of the season after a long injury lay-off.