Benitez not 100% sure of position at Chelsea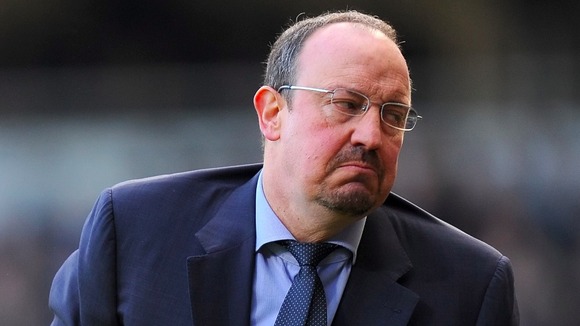 Chelsea interim boss Rafael Benitez admitted he was "not 100 per cent" sure his position was secure after his nightmare start to life at the club continued with a 3-1 defeat at West Ham.
Already the first manager of the Roman Abramovich era not to oversee a victory in his opening two games under the Russian, it got worse for Benitez at Upton Park this afternoon as Chelsea made it seven Barclays Premier League games without maximum points.
Disgruntled supporters piled on the misery for the former Liverpool manager, continuing the expletive-laden chants of "You're not welcome here" that have plagued his short reign, while he was also taunted - seemingly by home fans - with "You're getting sacked in the morning".
At any other club, it would be absurd to ask questions about the manager's position after just three matches.
But it has become impossible to tell at Chelsea just when owner Abramovich might pull the trigger if he decides things are going so badly awry.
Asked if he feared he would not last very long at Stamford Bridge, Benitez - whose contract is until the end of the season - said: "I would say that it depends on the things that we can do on the pitch.
"So, if we improve on the pitch, it will be easier for everyone."
Pressed on the fact he did not sound 100 per cent sure of his position, he replied: "No, I am not 100 per cent.
"We didn't win today - that is the main thing."
Benitez insisted he was not wracked by fear over the job he has only been in for less than 11 days but admitted it might be a tougher assignment than he had envisaged.
He said: "It could be in terms of, it's a top side, it's in the middle of the season and obviously the results were not the best, so we will try improve things and it will take some times maybe. We will see."
Benitez insisted his focus was less on his job and more on improving on a game today in which his players badly let him down.
The 52-year-old all but admitted his current squad - shorn of injured stars John Terry and Frank Lampard - lacked fighting spirit.
"We have some of them," he said. "But, obviously, we have also players who are injured who will come back and they will give another character or something different."
Suggesting too many of Chelsea's players were not as strong without the ball as they were on it, he added: "The kind of players that we have, sometimes they have to be in possession.
"And when you are not in possession, physically, you have to cope and manage with players who are quite strong and we didn't do it well."