Allardyce feeling pressure to win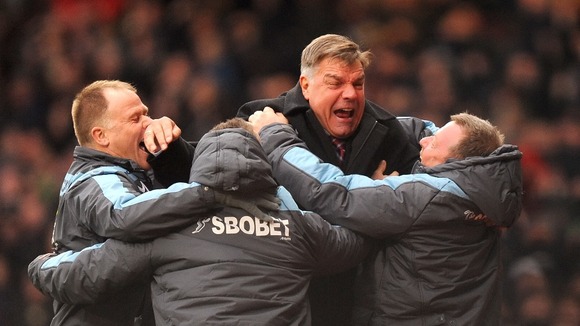 West Ham manager Sam Allardyce is realistic about what he has to do if he is to still be in charge when they move to the Olympic Stadium.
The Hammers were named as the preferred bidder to fill the vacant stadium although the deal is still far from complete.
Allardyce has guided the club back to the Barclays Premier League and West Ham now sit eighth in the table after last weekend's 3-1 win over European champions Chelsea.
But the 58-year-old knows he must continue to succeed and appease the club's supporters if he is to lead the move across east London from Upton Park to the Olympic Stadium.
"The only way I can continue to be the long-term future of West Ham United is to win football matches," he said.
"Around the corner you are always aware of how this game might change.
"You never know what is around the corner. It happened to me at Newcastle, it has happened to me at Blackburn, so you never ever know.
"For me it is about winning football matches and the future will be rosy for me and the football club if we continue to win.
"I'll be here a long time if we continue to win, if we don't then my job will come under scrutiny like everyone else."
West Ham's immediate future sees them host Liverpool tomorrow, with Allardyce keen not to let his players suffer a hangover following the victory over Chelsea.
He said: "We all felt the euphoria of what we achieved last Saturday. Our second-half performance was full of outstanding ability and we over-ran one of the top teams in Europe.
"We hit such levels of performance in the second half that it's now my job to sustain that because sustainability is the most difficult thing to do in the Barclays Premier League.
"After performances like that you can get a dip, so it's my job to make sure we don't have a dip after that type of performance because we'll need to be up there again to beat a team like Liverpool.
"It's about the lads trying to maintain their outstanding level from last weekend."
West Ham shelled out in the summer to bring in England striker Andy Carroll on loan from Liverpool.
The 23-year-old would have been ineligible for tomorrow's game due to his loan agreement but is missing through a knee injury anyway.
Carlton Cole stepped in to fill the void against Chelsea and grabbed the equaliser against his former club.
Allardyce is now hoping Cole, who along with Carroll has scored just once this season, can start to find the net on a more regular basis.
He said: "It was a great comeback in terms of the fact he has waited patiently and I think his performance overall, including the goal and the time he scored it, was obviously a key element in us going on to win the game.
"I hope he can carry it on and continue to score goals because that has been one of our slight weaknesses - that our centre forwards haven't really scored enough.
"Everyone else has because we're one of the best clubs for sharing out goals in the Premier League. We've had lots of players scoring goals but we've not had anybody rattling the goals in apart from Kevin Nolan.
"Our great win came from clinical finishing and we want to continue that if we can."