Swansea fan arrested over alleged racial gesture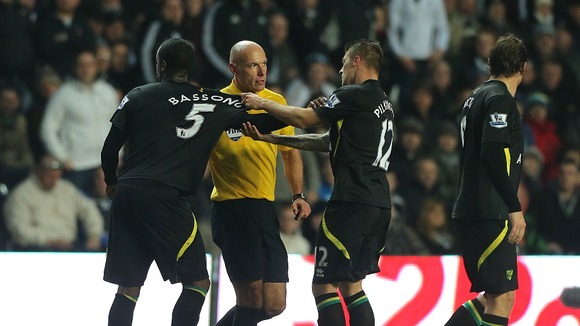 Swansea have confirmed one of their supporters has been arrested for allegedly making a racist gesture towards Norwich defender Sebastien Bassong during their 4-3 Barclays Premier League defeat at the Liberty Stadium.
The incident took place after Robert Snodgrass had scored Norwich's fourth goal from a free-kick in the 77th minute.
Bassong, who had scored earlier in the game, went to celebrate with his team-mates but quickly motioned to referee Howard Webb that he believed he had been the victim of a racist gesture.
Webb then reported the incident to the fourth official, and an arrest of a male supporter has been made.
A Swansea spokesman said: "There was an incident after Norwich's fourth goal. Sebastien Bassong made the referee aware there was a racist gesture towards him from a Swansea City fan.
"Within 10 minutes of the report the stewards had got hold of the TV footage, replayed it, identified the alleged person in question and within that period he was arrested for a racially aggravated public order offence.
"The matter is with the police, but from the club's point of view we abhor racism and we have worked hard over the years to make this a family club. We will look into it and a further statement will follow in due course."