Manchester City apologise to Rio Ferdinand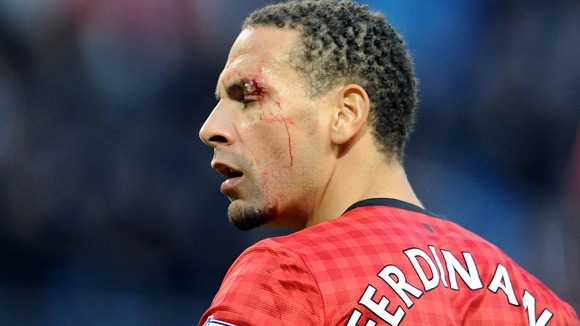 Manchester City have apologised to Rio Ferdinand after the Manchester United defender appeared to be hit by a coin as he celebrated his side's third goal in their 3-2 victory at the Etihad Stadium this afternoon.
Ferdinand sustained a cut just above the eye in the incident, which is now being investigated by Greater Manchester Police.
"We apologise to Rio," said a Manchester City spokesperson.
"We condemn the actions of the individual concerned.
"We are reviewing the CCTV with the police and our normal security.
"We will support the police with any investigation and hopefully identify the person as soon as possible."
Ferdinand was able to complete the game and afterwards on Twitter said: "Whoever threw that coin, what a shot!
"Can't believe it was a copper 2p....could have at least been a £1 coin!"
Sir Alex Ferguson adopted a more serious tone.
"It was disappointing when the supporter ran on the pitch and Rio got hit in the eye by a coin," said the United boss.
"The game didn't deserve that."