Bayern march on in Germany
by Ben Loder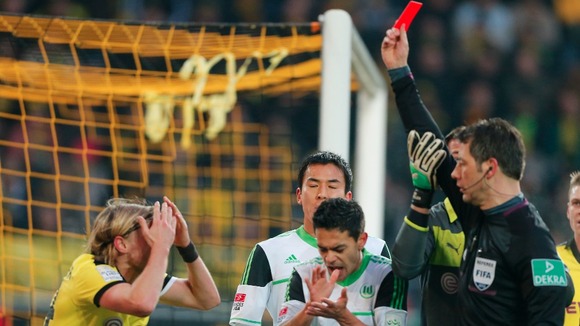 It would appear that the top clubs in the Bundesliga have grown tired of the constant adulation from disenfranchised fans across Europe who repeatedly praise its competitiveness: Leverkusen, Dortmund and Schalke all successfully dropped points at the weekend.
The failures of other teams saw Bayern steal a march on their rivals, with even the more cautious voices in Munich starting to talk like the title is in the bag – Thomas Müller admitted "If I were a Dortmund player and 14 points behind, I wouldn't be talking about the championship", while captain Philipp Lahm claimed "The only thing that can stop us now is us".
Watch the latest Bundesliga highlights
Despite the team's blistering start to the season, the future of ruddy-cheeked manager Jupp Heynckes remains uncertain, and the likelihood of his contract being extended may have been dealt a blow by reports in The Sunday Times that former Barcelona boss Pep Guardiola might prefer to make his return to management in Munich rather than Manchester. However, bearing in mind how important it is for a coach to gain players' respect, one stumbling block may be Guardiola's resemblance to Germany's version of David Brent, Christoph Maria Herbst.
Speaking of Barcelona, they were also the talk of the town in Mainz this weekend. A run of poor form has left Schalke boss Huub Stevens two games from the sack according to Bild, with Mainz head coach Thomas Tuchel rumoured to be the preferred replacement. General manager of the Coface Arena club, Christian Heidel, responded: "We'll sign Messi before Tuchel moves to Schalke." Given that the 39-year-old Tuchel being tempted to Gelsenkirchen highly likely, it's only fair to assume that Mainz are on the verge of the transfer coup of the century. Perhaps Messi feels the only way to truly prove he is more prolific than Gerd Müller is to beat der Bomber's goalscoring record in the same league … in a much worse team.
Elsewhere, it was a mixed weekend for the caretaker coaches. Lorenz-Günther Köstner continued his good work at Wolfsburg with a surprise win against Dortmund, helped in no small part by the bizarre sending off of Marcel Schmelzer – a red card so unfair that it was rescinded by the DFB within three hours of the final whistle. Frank Kramer's first match in charge of Hoffenheim was less successful, however, with his side's toothless display bringing a deserved 2-0 defeat in Hamburg. The decision to leave Japanese midfielder Takashi Usami and leading scorer Joselu out of the squad due to a perceived lack of German-language skills would have been questionable even if the team had gone on to record a barnstorming victory – as it stands it will probably encourage the board to speed up the search for Markus Babbel's long-term replacement at the Rhein-Neckar-Arena.