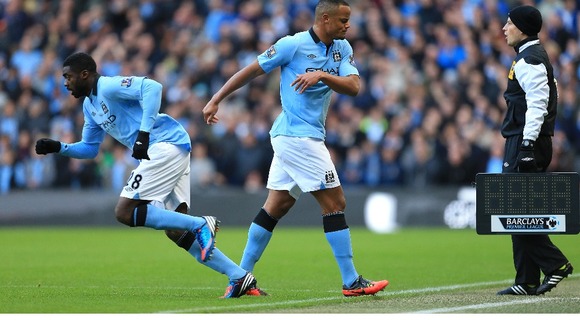 Manchester City captain Vincent Kompany has rejected suggestions the team suffered a psychological blow in their derby defeat and insists the players' outlook has not altered.
Manchester United defender Patrice Evra claimed they now had the mental edge after Sunday's win at the Etihad Stadium, City's first home league defeat in almost two years.
Kompany brushed that off, however, and stressed the squad was focusing on this weekend's trip to Newcastle.
"I don't know anything about psychological blows," he said. "Losing on Sunday changes nothing. We lost and we move on to the next game.
"The beauty of football is that you are always challenged, whether you have lost or won, and the next game is always the most important.
"We all know the importance of the (Newcastle) game but I don't do very well in bad-scenario thinking.
"For me there are so many positives that can happen if we win that game - I can't think of the other side of that coin.
"We have done it many times before and we need to get back in that mindset. If we do that, good things will come for us.
"Newcastle away is just as difficult as the game we had on Sunday but nothing comes easy in the Premier League.
"It's a difficult game for us but it's also a tough one for Newcastle as well."
Kompany is a doubt for the trip to St James' Park after sustaining a groin injury against United.
"Three days after the injury is a little bit too early to call," he told the Manchester Evening News.
"It's a difficult one - I went off because I felt something, so we will see how long it takes me."
Fellow defender Micah Richards is currently recovering from a longer-term problem but hopes to return by early February.
The 24-year-old tore the meniscus in his right knee which required surgery in October but is gradually making progress in his rehabilitation.
"I am not putting a date on when I will be back because these things are never exact but I am hoping it will be in early February," he told mcfc.co.uk.
"There is still not too much I can do but I am now on one crutch instead of two so that is progress.
"Of course it is frustrating and there is nothing more I would like than to be out there playing but I am being well looked after, the injury is responding and the knee getting stronger every day."