Five things you never knew about Corinthians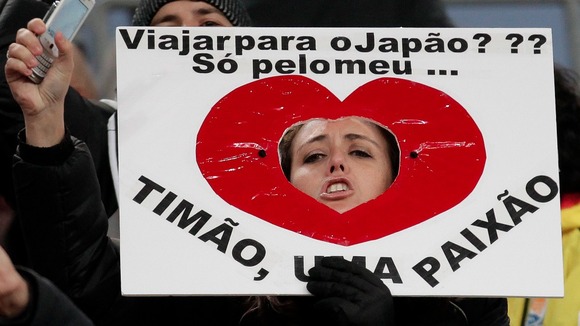 Chelsea will face South American giants Corinthians in Sunday's Club World Cup final.
Here are five interesting facts about the Copa Libertadores winners:
THEY'RE THE CHELSEA OF BRAZIL
Well, kind of. They're Brazil's richest club but, like Chelsea in the Champions League, they never managed to translate their spending power into success in the Copa Libertadores until this year. Both clubs have also won a similar number of league titles, five and four, respectively.
THEY MUST HAVE ENGLISH HERITAGE...
Indeed. Their name was inspired by Corinthian Football Club, a London-based team who toured Brazil in 1910. Thankfully, Corinthians' founders did not delve too much deeper into the principles of their namesakes, who refused to enter the Football League or FA Cup for years because their rules forbade them from competing for "any challenge cup or prizes of any description". Corinthian FC's white shirts also inspired those of Real Madrid.
THEY'VE WON THIS CUP ALREADY
Again, kind of. Remember the fuss that was made back in 1999 when Manchester United withdrew from the FA Cup? That was after FIFA decided to organise their own club tournament, seemingly in a bid to extend their dominion over the game in an era when UEFA's Champions League was becoming as big as international football. Anyway, Corinthians won the bloated eight-team tournament despite only qualifying as 'hosts'.
THEIR NEW STADIUM LOOKS SENSATIONAL
And so it should, as it's due to host the opening game of the 2014 World Cup. Work on the 68,000 Arena Corinthians began last year and is due to be completed in 2013 at a cost of 350 million US dollars (£217million). Corinthians have been tenants at the 40,000 Estadio do Pacaembu for 72 years and it certainly looks its age, having hosted games at the 1950 World Cup.
NOT NEIL WARNOCK'S FAVOURITE CLUB
UEFA last week announced rules to outlaw third-party ownership of players, which was banned in England after West Ham took advantage of the practice to bring Carlos Tevez and Javier Mascherano to the Premier League six years ago from Corinthians. It caused an almighty storm after the club survived relegation at the expense of Warnock's Sheffield United. Co-incidentally, Chelsea's next game is against his Leeds side.