Profile: Corinthians' Mr Perfect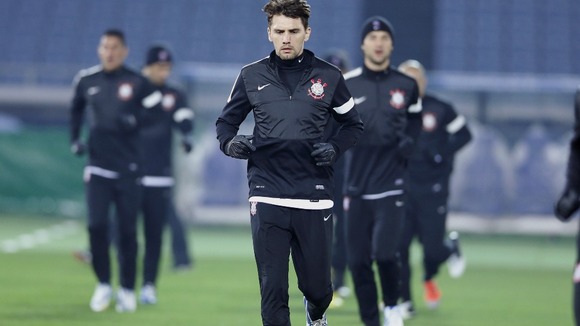 He paints, he writes, he plays chess, poker and tennis - and he is a male model.
And if that were not enough to make Chelsea fans sick of Corinthians' Mr Perfect, Paulo Andre was today also plotting the European champions' downfall in Sunday's Club World Cup final.
Andre is the ideal antidote to the stereotype of the modern footballer, the defender as much of an exception to the rule in Brazil as he would be in England.
Speaking in near-flawless English he learnt during pizza-eating sessions with two Americans while a youth-team player, Andre told Press Association Sport: "I'm unusual. It's very hard to find players like that.
"I'm not sure if it's because they are not capable or because they are shy about saying they do different things from football.
"We have a culture in Brazil where the football player can only play football. He can't think, he can't talk, he's there just to play.
"And I'm trying to show people that you can be different."
The 29-year-old does not hide his light under a bushel.
Unusually in football these days he wrote his own autobiography, 'The Game of My life', and celebrated Corinthians' Brazilian title win last year by creating a giant painting using footballs dipped in black paint kicked at the canvas by his team-mates.
It can only be imagined what he would do if they are crowned world champions on Sunday.
"I could never dream that I would play a final game like this," Andre said.
"So, this is the chance of my life, it's the moment I live for."
It has become a cliche that the Club World Cup means more to South American teams than their European counterparts.
"I think it's cultural in our country," said Andre, who nevertheless claimed the Copa Libertadores had become even more of an obsession for Corinthians before their maiden triumph this year.
They had already won the one-off Club World Championship in Brazil back in 2000, although if their fans care less about the current tournament, they have a funny way of showing it.
Around 30,000 of their estimated 30 million following are expected to attend Sunday's final and Andre said: "We see from our fans - 30 million fans - that they ask us just to make them proud and show them who Corinthians are and that's what we're going to do."
Andre is a lifelong supporter himself, finally realising his dream of playing for the club three years ago via a stint in France and a trial at Rangers.
The Glasgow giants failed to meet the asking price of his Brazilian club but Andre had no regrets about not moving to the UK.
The man who has yet to be capped by his country, but was crowned Brazil's Footballer of the Year last year, said: "I think I went the right way.
"I'm playing a final in a World Cup."
For that final to be a success, Andre must tame Juan Mata, Oscar and Eden Hazard and put an end to Fernando Torres' mini-revival.
"We know exactly what to do to try to stop them, so let's try to put into practice what we have in mind, what our coach said to do," Andre said.
"Of course, it would've been much better if it was a month ago because of Torres..."
Andre was referring to the latest goal drought for the £50million man, ended emphatically after he netted five times in his last three games.
That included yesterday's semi-final win over Monterrey, in which Chelsea looked far more comfortable than Corinthians did in their own semi against Al Ahly.
Andre warned his side were capable of creating their own shock on Sunday, something that is sure to see him release an updated version of his autobiography.
There could be plenty more volumes to come as well, with the defender already planning for his retirement.
"I would really like to help my country to rediscover their brilliant football, with organisation and everything else," he said.
"I don't know about coaching, but maybe with sports politics.
"I think I have the knowledge - practical and theoretical - to do that."