Ivanovic: Club World Cup final is key game for this Chelsea generation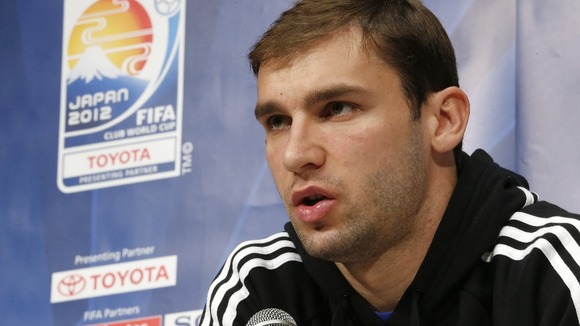 Branislav Ivanovic today claimed Chelsea's World Club Cup final with Corinthians could be "the key game for this generation" at the club.
Defender Ivanovic suggested a win in tomorrow's match in Yokohama would be the catalyst for a new era of success at Stamford Bridge.
Chelsea's Champions League triumph in May was a watershed moment for the club, having been followed by an overhaul in both personnel and playing style.
And Ivanovic said of tomorrow's world-title decider: "For us, this is maybe the key game for this generation.
"We know how we have to play the final and we know that it's going to be tough.
"So, we have to be ready."
Ivanovic admitted Chelsea becoming the first Champions League holders to crash out of the competition before Christmas - the third trophy they have missed out on already this season - made victory tomorrow even more imperative.
"It's going to be a key point for this generation because to be eliminated from the first stage of the Champions League is, for us, a little bit disappointing," he said.
"We we have to work hard and how we worked hard in the past to be champions.
"Tomorrow is the one new chance to make history.
"I think we are ready for that challenge."
The Club World Cup has been cast somewhat as an ugly sister to the Champions League but Ivanovic added: "I think this is one of the biggest chances we have in our lives, what we have at the moment.
"So we have to try to do everything to take it.
"We know why we came all the way here."
The common perception is that the tournament means more to South American clubs than those in Europe.
Ivanovic countered that and said: "We know how this competition in South America is very big, very huge.
"But, for us, it's the same.
"There are not a lot of chances to be a world champion.
"We have to take this chance like it's the last one and we have to play this way."
Tomorrow's match is being played at a neutral venue but Chelsea's travelling fans are expected to be completely outnumbered and outsung by their Corinthians counterparts.
"This is quite a similar situation to the Champions League final, when we actually played the game away," Ivanovic said, recalled May's triumph against Bayern Munich - in Munich.
"Tomorrow, there are going to be a lot of Brazilian supporters.
"But there are going to be our supporters as well.
"We know the atmosphere is going to be quite like it is in South America but we will try to adapt to this quickly and try to stay focused on the game."