Mata: I never doubted Torres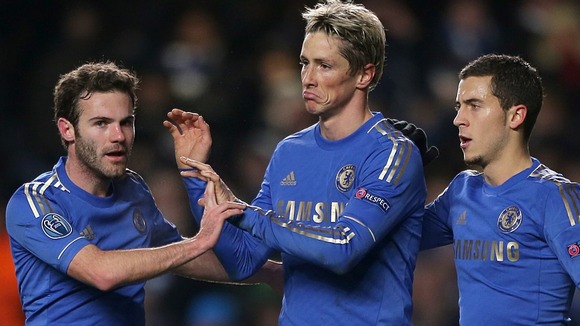 Juan Mata watched Fernando Torres continue his rehabilitation in a Chelsea shirt before reminding the striker's doubters: I told you so.
While many gave up on Torres ever coming good at Stamford Bridge, Mata never lost faith that his fellow Spaniard would eventually begin to justify his record-breaking £50million price tag.
And the last 10 days have proven him right, with Torres netting in three successive matches for the first time in his Chelsea career, bagging five goals in all.
Winger Mata said: "This is what I saw from him in training all those weeks and months, so I knew it would happen.
"And when I said I could see it coming, that was true. Fernando was, is and will be always an important player.
"He is a very good striker for us. Now you can see he is fully fit and we have a lot of confidence in him."
Torres's revival has mirrored that of Chelsea as they have shaken off their worst slump for 15 years in the Barclays Premier League to win three straight games in all competitions.
One more against Corinthians on Sunday and they will win the Club World Cup.
"That's what we're trying to do," said Mata, who claimed the "intensity and confidence" was back at Chelsea under interim manager Rafael Benitez.
"We're trying to play in a good way. I think the best way to win is with the ball and that is what we are looking to do now."
Chelsea comfortably beat Monterrey in yesterday's semi-final and Mata added: "That was the sort of football the manager has told us he wants to see, wants us to play.
"But having come out here, so far, we are only halfway. We have to finish the job on Sunday.
"We know that Corinthians are one of the best teams in South America, so we will have to play at our best level."
Especially in possession.
"It will be the main point for the game for us - whether we can keep the ball or not," Mata said.
"We know they are a team who likes to play with the ball, a typical Brazilian team.
"But we have players as well who want to play that way.
"We want to have the ball, to make passes, create chances and assists."