Prandelli tips Balotelli for a return to Italy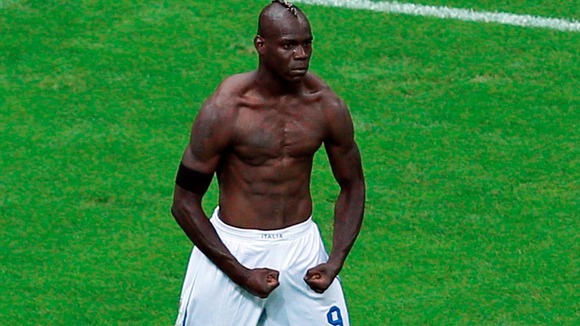 National coach Cesare Prandelli believes a return to Italy "could help" controversial Manchester City striker Mario Balotelli.
Balotelli's future has been the subject of renewed speculation after it emerged he is taking City to a Premier League tribunal this week.
Press Association Sport understands Balotelli is appealing against a club fine imposed for on-field indiscipline.
The Italian has taken the matter to the Premier League, as is his right, after failing in the internal appeals process.
Neither City nor the Premier League have commented on the development but it has further fuelled rumours the 22-year-old could leave the Etihad Stadium during next month's transfer window.
City boss Roberto Mancini has twice dropped Balotelli in recent weeks for poor form and again voiced fears the player's talent could go to waste if his attitude does not improve.
Prandelli, for whom Balotelli impressed at Euro 2012, told Rai Sport: "Mancini is absolutely right. Balotelli must listen to him, I agree with him.
"Everything depends on Mario, however. Coaches can try to stimulate and negotiate with you but everything must start from him.
"Returning to Italy could help him. It's important for him to have continuity, the city or the country is not the problem."
Balotelli, signed for £24million from Inter Milan in 2010, has been linked with a return to the San Siro with AC Milan.
The latest matter adds to a long list of controversies - on and off the pitch - concerning the enigmatic Balotelli during his time at Eastlands.
It has been reported that the fine Balotelli is contesting was imposed last season after a series of on-field indiscretions.
Balotelli accrued bans totalling eight matches during the last campaign and - when added to a European sanction carried over from the previous season - missed 11 games through suspension.
He was sent off for two bookable offences at Liverpool, incurred a retrospective ban after appearing to stamp on the head of Tottenham's Scott Parker and received another red card at Arsenal.
The dismissal at the Emirates Stadium in April came in what appeared to be a costly defeat which left City eight points adrift in the Premier League title race.
Fellow Italian Mancini, who has been determined to coax the best from his former Inter protege, appeared to lose patience and said he would "probably" sell him.
Balotelli had previously been censured by the club for breaking curfews.
Mancini said Balotelli would not feature in City's final six games of the season but he later relented and the forward played a key role off the bench in the last-day title success.
Balotelli's performances this season have again been under scrutiny.
Last month he was dropped for a clash against Spurs for what Mancini described as a poor attitude in training.
After a spell out injured he scored at Wigan on November 27 - his only goal of the Premier League season so far - and was a surprising starter in the derby defeat against Manchester United eight days ago.
But he was withdrawn early in the second half of that game after an ineffectual performance and he was again left out - and did not even travel - for Saturday's win at Newcastle.
Mancini said: "He is not in good form at this moment and it was better for him that he continued to train and to train well. When he is in form, he will play.
"His form is not good - it's not good to play."
Speaking after the United game, a 3-2 defeat at the Etihad, Mancini again bemoaned Balotelli's wastefulness.
He said: "I love Mario but it is important for him to start to think about his job.
"He has everything to play well but he can't continue to play like today. We wanted more from him.
"When you have a player that has Mario's quality, you cannot understand why he continues to throw it out of the window. It is incredible."