Warnock: The pressure is off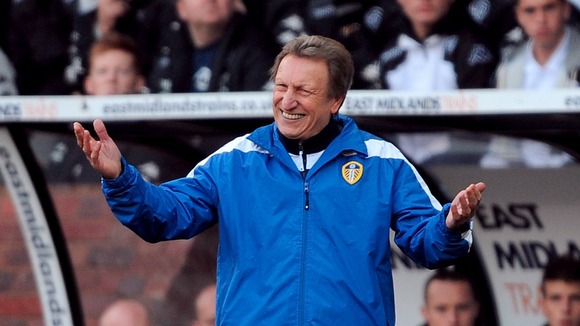 Leeds boss Neil Warnock is realistic about his side's chances against Chelsea in Wednesday's Capital One Cup quarter-final clash, admitting that if the European Champions play to their potential there is little his team can do to stop them.
The Whites head into the clash at Elland Road on the back of four wins in their last five matches, and will take on a Chelsea side who have taken just seven points from a possible 21.
However Warnock, who took Sheffield United to two cup semi-finals 10 years ago, believes the strength in depth Chelsea have still makes them overwhelming favourites.
"You never know if it's your last big cup tie really, so it whets the appetite," he said.
"I don't think I could have picked a better team to play against.
"It promises to be fabulous with no pressure on us. Whatever team I select we can just go out and enjoy it.
"I hope we go out and give them a good game, but if we play well and they do as well there's only one winner, so we have to hope they're not right up to it and we're on top of our game."
Leeds have already beaten Barclays Premier League sides Everton and Southampton on their way to the last eight and at Elland Road Warnock believes his side could cause another cup shock.
"We can give anyone a run for their money on our patch and it promises to be a really god cup tie," he added.
"There's nothing else happening in the country that night so all eyes will be on the cup tie and it will be exciting.
"As you saw against the others, I think Everton picked a strong side and we did well against them so it's all credit to the boys."
Chelsea's involvement in the World Club Championship could work in Leeds' favour, with the Blues yet to land back in Britain following Sunday's defeat to Corinthians in Yokohama.
"It depends which way you look at it," Warnock said. "Chelsea could put three teams out that could beat us.
"They've got a selection problem themselves, who to play or who not to play?
"Without a shadow of a doubt the manager (Rafael Benitez) will look to win it because he's an interim manager and he'll want to win every game and every competition he can, so I know how much it will mean to him."
It also means a lot to chairman Ken Bates. The 81-year-old spent more than two decades as owner of Chelsea between 1982 and 2003 before selling to Roman Abramovich.
"He's got fond memories of the staff and players down there which is bound to happen when you've been involved with them for so long, but I know he wants us to win and get in the semis," Warnock said.