Stevens signs off at Schalke
by Ben Loder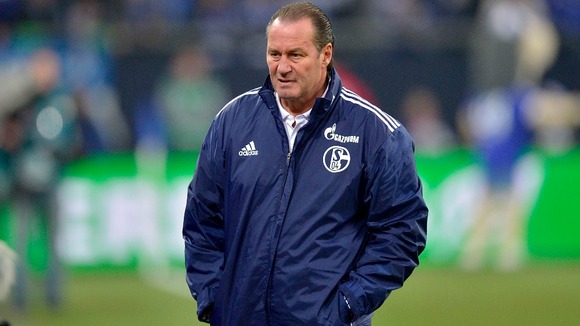 Attention in Germany was focused on Frankfurt last week, as 31 of the 36 clubs in the country's top two divisions agreed to the controversial new safety proposals from the German football league (DFL). The measures themselves are considerably watered down compared to the original suggestions, with the main talking points being increased intensity of security checks on fans entering football stadia and possible reductions in ticket allocations for away fans. The celebrated German fan culture does not seem immediately under threat, and, in hindsight, most of the issues could probably have been avoided had supporters been involved in discussions from the start. Fan groups now say in-stadium protests will continue after the winter break.
Huub Stevens will not be able to witness the manifestations – the Dutchman has been sacked by Schalke 04 after his team, so impressive in the early part of the season, suffered a 3-1 defeat at home to Freiburg on Saturday that stretched their winless run to six games. Reportedly Stevens had "lost the dressing room", and certain key players were stalling on new contracts to see if the famously bad-tempered manager might be on the way out. Under-17s coach Jens Keller has been put in the hot seat and took charge for the first time in their 2-1 cup defeat to Mainz.
And on that topic, Stevens' firing of course lends more weight to the "Messi to Mainz" campaign (contract extension notwithstanding). Mainz 05's general manager, Christian Heidel, last week said the Coface-Arena club would sign Messi, now known as "the poor man's Godfrey Chitalu", before they allowed Schalke to get their hands on manager Thomas Tuchel. However, he seemed to have lowered his sights by Monday, claiming "If Schalke come to us [about Tuchel], I'll ask for €30 million!" Heidel presumably then took a closer look at his gas bill, as later that day Bild quoted him as saying that the price had increased to "60 or 70 million. They can offer what they like."
Time will tell whether Heidel's counterpart at Schalke, Horst Heldt, plans to bring the Argentinian superstar to the Veltins-Arena to engineer a swap deal for Tuchel. He might just prefer to tempt Armin Veh away from Frankfurt when his contract runs out at the end of the season – Eintracht have been this season's surprise success story and the pair worked together in Stuttgart when Veh led VfB to their first Bundesliga title in 15 years back in 2007.
Those managerial movements remain uncertain as the Bundesliga takes a well-earned break until 18 January, but one appointment was confirmed this week. Marco Kurz, sacked by Kaiserslautern in March with the club bottom of the table, has been charged with the task of improving on that performance and keeping 16th-placed Hoffenheim, who lost 3-1 to Dortmund this weekend, in the top flight.