Fergie: Ronaldo misses Manchester United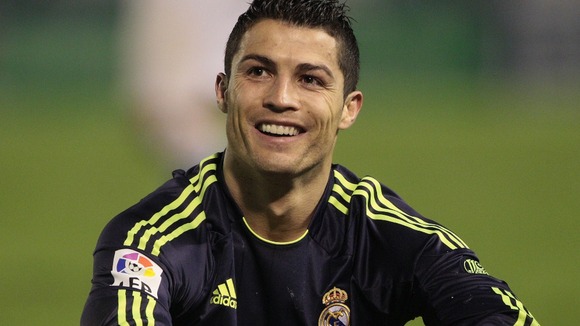 Sir Alex Ferguson would be happy for Manchester United fans to boo Cristiano Ronaldo once their Champions League tie with Real Madrid actually starts.
The bond between United and Ronaldo remains strong, even though the Portugal superstar demanded to leave in 2009 after spending six years at Old Trafford.
It is a measure of the high esteem in which Ronaldo is held for performances that earned United three Premier League titles and the Champions League, in addition to confirming the 27-year-old as one of the world's best players.
Ferguson will welcome Ronaldo on March 5 with open arms. But once battle has commenced, the gloves will be off.
"He will get a great reception when he comes onto the pitch at Old Trafford, quite rightly. After that they can boo him as much as they like," said Ferguson.
The delivery is partially tongue in cheek.
For the bond between player and club runs deep, so deep in fact Ronaldo has already vowed not to celebrate should he score, as he has done on 170 occasions in 169 games for Madrid, against United.
"If I score against United I won't celebrate," Ronaldo told AS.
"I still talk to (Sir Alex) Ferguson. I miss him a lot, like I do Manchester United.
"I felt very happy there, it was like a family.
"I spent six great years there and I am still friends with my former team-mates."
One of those team-mates is Patrice Evra, who cheekily suggested Ronaldo's talents will never receive true recognition until he returns 'home'.
"He has done some incredible things for Real Madrid, he broke all the records, but they didn't show him the respect he deserves," Evra told MUTV.
"When Ronny was here, he got the love from all the players, the manager and the fans.
"He is a winner. But he likes people to like him.
"He misses Manchester United because it was his house. I always say I hope he will come back because this is his home.
"If he wants to win the Golden Ball (Ballon D'Or) he has to come back to Manchester United."
Yet, deep down, Ferguson does not expect it to happen.
"I don't see it," he said.
"Maybe when he is about 39 and you are coming past my grave, but it is fanciful thinking really.
"First of all how much would it take to get him from Real Madrid?
"Secondly I don't think there is any chance they would want to sell him anyway.
"You never know. I don't know when his contract finishes and he may want to go to another club at some point in his career. Of course I would hope he'd want to come here. But that is a long way off."