Watch 2013 Africa Cup of Nations live on ITV4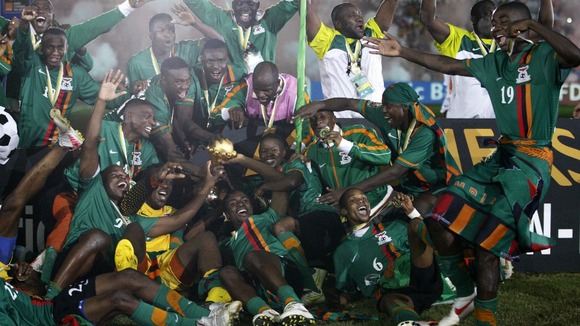 ITV4 is showing an unprecedented 20 live matches free-to-air from the 2013 Africa Cup of Nations.
Presenter Matt Smith is joined by former Bolton midfielder Fabrice Muamba, former Nigeria striker Efan Ekoku and South Africa stalwart Quinton Fortune for live coverage from South Africa.
In all, 12 group matches, four quarter finals, both semi finals, the third-place play-off and the final will be shown on the channel – more free-to-air terrestrial coverage than ever before.
In addition to the screening of live games on ITV4, matches throughout the tournament will also be simulcast on itv.com/itv4, with games available for catch-up in ITV Player and highlights on the ITV Football website.
2013 Africa Cup of Nations fixtures and results
Group A – South Africa, Angola, Morocco, Cape Verde
19th January: South Africa 0-0 Cape Verde (Highlights), Angola 0-0 Morocco (Highlights)
23rd January: South Africa 2-0 Angola (Highlights), Morocco v Cape Verde (Highlights)
27th January: South Africa v Morocco (5pm), Cape Verde v Angola (5pm)
Group B – Ghana, Mali, DR Congo, Niger
20th January: Ghana 2-2 DR Congo (Highlights), Mali 1-0 Niger (Highlights)
24th January: Ghana v Mali (3pm), Niger v DR Congo (6pm, LIVE ON ITV)
28th January: Ghana v Niger (5pm), DR Congo v Mali (5pm)
Group C – Zambia, Nigeria, Burkina Faso, Ethiopia
21st January: Zambia 1-1 Ethiopia (Highlights), Nigeria 1-1 Burkina Faso (Highlights)
25th January: Zambia v Nigeria (3pm), Burkina Faso v Ethiopia (6pm, LIVE ON ITV)
29th January: Zambia v Burkina Faso (5pm), Ethiopia v Nigeria (5pm)
Group D – Ivory Coast, Togo, Tunisia, Algeria
22nd January: Ivory Coast 2-1 Togo (Highlights), Tunisia 1-0 Algeria (Highlights)
26th January: Ivory Coast v Tunisia (3pm), Algeria v Togo (6pm, LIVE ON ITV)
30th January: Ivory Coast v Algeria (5pm), Togo v Tunisia (5pm)
Quarter-finals
2nd February: Group B winners v Group A runners-up (3pm, LIVE ON ITV), Group A winners v Group B runners-up (6.30pm, LIVE ON ITV)
3rd February: Group D winners v Group C runners-up (3pm, LIVE ON ITV), Group C winners v Group D runners-up (6.30pm, LIVE ON ITV)
Semi-finals
6th February: Winners Quarter-final 2 v Winners Quarter-final 3 (3pm, LIVE ON ITV), Winners Quarter-final 4 v Winners Quarter-final 1 (6.30pm, LIVE ON ITV)
Third place play-off
9th February: Semi-finals losers (6pm, LIVE ON ITV)
Final
10th February: Semi-finals winners (6pm, LIVE ON ITV)