McDermott confident Royals will survive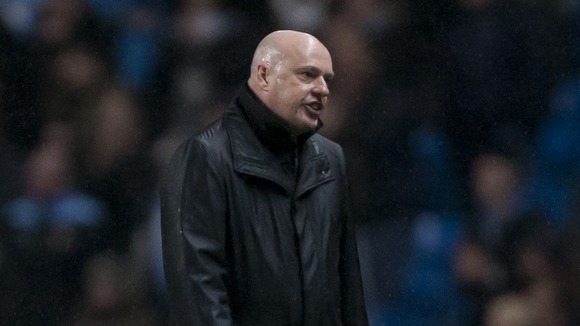 Reading's battle for Barclays Premier League survival may not be pretty but manager Brian McDermott insists it can be successful.
The Royals ended a run of seven consecutive defeats by grinding out a goalless draw against Swansea on Boxing Day, a result which was enough to lift them off the bottom of the table although they still remain six points from safety.
After a series of high-scoring defeats, McDermott made no apologies for Reading's change in emphasis as they attempt to become only the second team ever to avoid relegation having been bottom of the league at Christmas.
"We have got to do whatever we have to to get results," McDermott said ahead of Reading's clash with West Ham tomorrow.
"I've learned a lot about this league in 19 games. In the Championship we tried to win every single game because we wanted to entertain, but our fans want to see points and results.
"The players want points - we try to get three points from every game - but we're all sensible because we don't want to lose. We have got to be resilient as a group and a team. It is obvious we can't be giving four or five goals away at home (as Reading did in their previous two home games against Manchester United and Arsenal). It is a better place to play from.
"In the last three seasons we have had relative success. We have been to a play-off final, two quarter-finals and we won promotion. At the moment it is tough but the fans have stuck with the players and I am grateful they have stuck with me.
"They saw real fight and spirit from the players against Swansea.
"People talk to me about history and positions in the table, points and what have you, but it's irrelevant. With 19 games to go this is definitely doable for us. We enjoy and relish the challenge. We can do this."
Reading had come close to earning a point at Manchester City just before Christmas and striker Adam Le Fondre is determined to ensure the draw against Swansea becomes a turning point in their season.
The Royals took six points off West Ham last season and they have won four of their five meetings with the Hammers at the Madejski Stadium.
Le Fondre has drawn inspiration from Norwich's recent 10-game unbeaten Premier League run as an example of what is possible for Reading as they enter the second half of their first season back in the top flight.
"The Swansea game was a good building block for us. I don't think it was a good game to watch, but we frustrated them and I think it's important that we didn't lose," Le Fondre said.
"It was a great clean sheet for us as we've been leaking a lot of goals as a team. We need to build on this for West Ham and take it into Tottenham as well.
"The majority of games will now be key games for us, but we have that point to build on now.
"Norwich built from one game and they went 10-games unbeaten and we have to take a leaf out of their book."