Walcott can play up front - Oxlade-Chamberlain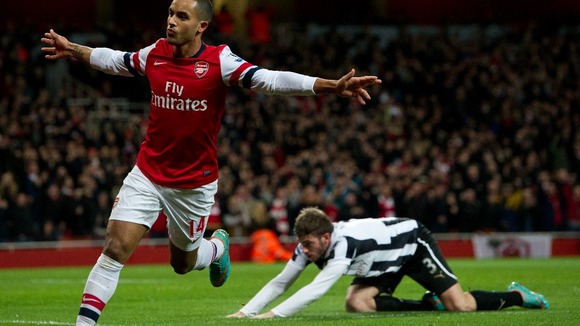 Alex Oxlade-Chamberlain thinks Theo Walcott has proven beyond any doubt that he is capable of taking on the role of Arsenal's assassin for the rest of the season.
Arsene Wenger had seemed unsure whether Walcott could function effectively as a striker but that theory has been blown out of the water over the festive period after the England international starred in all three games he started up front.
After scoring against Reading and winning the decisive penalty against Wigan last week, Walcott stole the show as a lone hitman again yesterday, bagging a stunning hat-trick in the Gunners' 7-3 demolition of Newcastle at the Emirates Stadium.
Walcott - who is yet to sign a contract with the London club - put Arsenal ahead with a breakaway goal that brought Thierry Henry to his feet and then wrapped up the win with two more classy finishes. He also set up Olivier Giroud for both of the Frenchman's goals.
Wenger likened Walcott's performance to one of Henry's last night, and Oxlade-Chamberlain thinks there can be no doubt that his team-mate can follow in the Frenchman's footsteps and go on to become a top striker.
"He definitely has all the attributes to play up front," said Oxlade-Chamberlain of Walcott, who now has 14 goals for the Gunners this term.
"The goals are coming. He has proven he can do a really good job for us up there.
"For someone with his pace it's hard for anyone to defend against and when he gets the service he can always punish teams so he's doing really well.
"His performance was amazing. You could see after his first goal he had a spring in his step but he has been like that all season. "He has been brilliant."
The Arsenal fans who spent a large portion of the last 18 months questioning Walcott's ability were instead urging Wenger to "sign him up" as the player saluted all four corners of the ground on an impromptu lap of honour last night.
Walcott turned down a new contract - reported to be worth £75,000 a week - in the summer and has failed to reach an agreement with the club ever since.
Wenger and Walcott himself have both had to field answers on the issue all season, but Oxlade-Chamberlain thinks his fellow Southampton youth academy graduate has remained professional throughout the whole drama.
"Even with all the speculation that's going on, he's stuck to his work," Oxlade-Chamberlain said.
"He's a great professional, a good mate and a good lad around the dressing room. "We need him to keep (scoring goals) for as long as he can.
"We've all been giving him a bit of banter (about his contract) but that's for Theo's people and himself to sort out with whoever is involved."
Speculation has been rife that Wenger will add another striker to his squad in January.
Fernando Llorente and David Villa are just two of the hitmen who have been linked with Arsenal, but yesterday's thrashing may dampen Wenger's desire to bring in a new striker.
He said: "Gervinho has not played today. He's a striker who is going away now [to the African Nations Cup]. (Andrey) Arshavin has not played. We have strikers but we'll only bring the players in who will give us a plus."