AVB: Adebayor can go to Africa Cup of Nations with Togo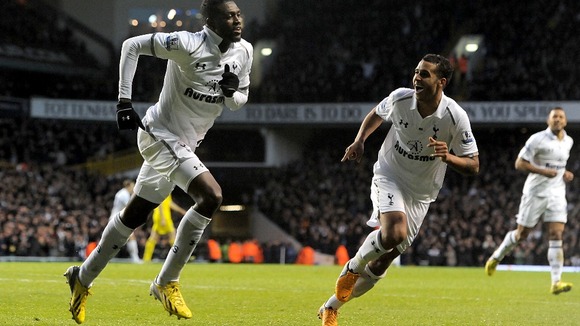 Andre Villas-Boas says Tottenham will not stand in Emmanuel Adebayor's way should he change his mind and decide to go to the Africa Cup of Nations.
Adebayor scored just his third goal of the season yesterday as Tottenham moved up to third in the Premier League with a 3-1 win over Reading at White Hart Lane.
Adebayor released a statement last month insisting he would not go to the African Nations Cup due to a row over unpaid bonuses, although he later claimed the real reason behind his omission was because he did not want to stoke up memories of the deadly gun attack on the Togo squad during the 2010 tournament in Angola.
Villas-Boas said yesterday it was yet to be decided whether Adebayor would attend the three-week long tournament in South Africa, and also admitted he would be powerless to stop the player leaving should he decide to come out of international exile.
"It's a vulnerable situation, anything can happen,'' the Tottenham manager said.
"I've told you the player can still go, I understand it is still a possibility.
"It was always his choice, I'm not going to put pressure on him. We've left it to the player to decide. If player wants to go, we respect the African Nations Cup.''
Adebayor has found goals hard to come by this term, but he combined well with Jermain Defoe again yesterday as Spurs ran out winners, with Clint Dempsey and Michael Dawson also getting on the scoresheet.
Villas-Boas was delighted to see Adebayor back among the goals.
"It was important for him today to score,'' he said. "He had a couple of situations recently against Sunderland and Villa, it was important for him to get back into the goals.
"Strikers live off goals, it was important for him to score. You see him trying like Jermain Defoe, Clint, and how decisive he is also.
"They want to get in the box, they breathe off scoring goals and it will give him a boost for sure.''