Demba Ba proud to sign for world-class Chelsea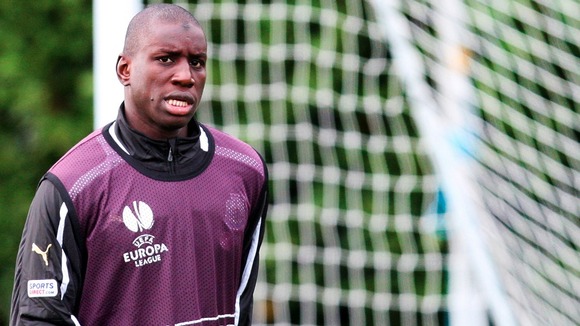 Demba Ba declared there was no comparison between Chelsea and Newcastle - or West Ham - after completing his move to the European champions.
The Blues announced the signing of Ba on a three-and-half-year contract this morning after activating the £7million release clause in his Magpies contract, the value of which had controversially become public ahead of the transfer window.
It is the second time Ba has exploited such a clause since moving to English football, having been allowed to leave West Ham following their 2011 Premier League relegation.
But he had no regrets today about his career path, revealing he had said to himself, "Yes I've done it", after being given permission to join Chelsea.
The Senegal star told the club's official website, www.chelseafc.com: "This club is at another level - it isn't West Ham or Newcastle.
"They are both big clubs with a strong history, but Chelsea is Chelsea and you cannot compare.
"It will be easier with world-class players around, who make the football look so easy."
He added: "Yesterday, I was looking back and smiling to myself, saying, 'Yes, I've done it'.
"I feel very proud, not only for me but the people who supported me over the years - my agent for instance who has been there since I was 15, my mum as well because when I skipped school she was afraid but today I am very proud for my family.
"I never lost belief in my football though, never. You keep working and things come. Rewards always come."
Ba insisted his move early in the window had given Newcastle plenty of time to recruit a replacement.
"It was important for me, and for Newcastle, to get my future sorted and now we can move on," he said.
"Now they have the whole month to buy someone and, for me as well, the sooner the better. Now I am here I just need to get settled in.
"When the club who won the Champions League wants you, the decision-making is very easy. This club is massive and that's something that helped the decision a lot. It was not a hard one."
Ba's transfer activity has led to him being branded a mercenary in some quarters, while there have also been concerns about a long-standing knee problem.
But Chelsea interim manager Rafael Benitez today shrugged off fears over the fitness and fidelity of the first signing of his reign.
Insisting there was no problem with his medical, Benitez added: "I think that he's a good professional.
"That is the information that we have and hopefully he will show this. I was talking with him about what I am expecting from him, and he was okay.
"Professional football is quite difficult and then the players move around, the managers move around.
"The main things for me were to be professional, to do the right things for your club and, this, I think everyone is expecting."
Benitez revealed one of the factors in signing Ba - who was playing in the lower reaches of French football just four-and-half years ago - over some of the other strikers Chelsea had considered was his recent pedigree in England.
The striker is joint third in the Premier League goalscoring table with 13 so far this season and Benitez said: "We were looking for a player who we could play right now because we have one game every three days.
"So we couldn't be waiting and I think that it's the kind of player in the Premier League who can do well from the first day."
That first day looks set to be tomorrow's FA Cup third-round trip to Southampton, with Benitez considering throwing his new signing straight in at the deep end.
Fernando Torres has started almost every game this season and Benitez is keen to rest his fellow Spaniard in the wake of Daniel Sturridge's move to Liverpool.
"With Sturridge leaving, Fernando as just the main striker was always a problem," said Benitez, who refused to comment on other potential arrivals.
"We have now a different option, a player that maybe can play even behind Fernando, maybe with Fernando, maybe on his own."
Benitez also claimed he was none the wiser as to when John Terry would be back in action, despite insisting his captain was "closer" to returning from his troublesome knee injury.