Luton Town want promotion more than FA Cup run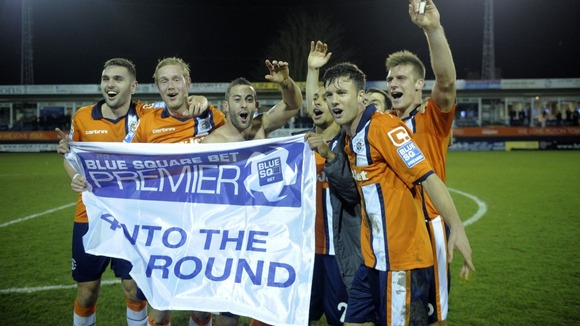 Promotion back to the Football League remains the priority for FA Cup third-round heroes Luton, according to their manager Paul Buckle.
Buckle's side caused an upset on Saturday as they recorded a 1-0 victory over npower Championship side Wolves, who sacked manager Stale Solbakken following the defeat.
Luton are now in the hat for the fourth round but it is promotion from the Blue Square Premier that Buckle is focused on.
When asked if success in the league was still the number one target, Buckle told BBC Radio Five Live's Sportsweek programme: "It is yes.
"Obviously we lost our league status, it hurts and is quite embarrassing for the supporters if you put yourself in their position.
"It is not so long ago that the likes of Wolves were coming down to Kenilworth Road on a regular basis - it is no disrespect to the league but it must be a culture shock for our fans to go to the grounds they go to now and entertaining some of the clubs - but we have to get on with it.
"We found ourselves out of the Football League and it is going to be incredibly hard to get back."
The Hatters were in the top flight for the last time in 1992 but former Torquay boss Buckle knows the club's illustrious history counts for very little as they fight to regain their league status.
He said: "Just because we have got this great history, fanbase and ground it doesn't guarantee you getting out at all. We have got to work hard and pay respect to the league because it is a tough, tough league.
"I've got out of it once before but it takes a really big effort from everyone, at the halfway stage we are doing well in the cups and with all our games in hand now we must take advantage of them.
"The conference is a very hard league to get out of, I think sometimes people can underestimate how hard it is."
Despite the league being the top priority Buckle was delighted with the win over out-of-form Wolves, who have been given permission to speak to Doncaster manager Dean Saunders as they seek a replacement for Norwegian Solbakken, who was in charge for just over six months.
"It was an incredible day," said Buckle.
"The only thing that got near to that was last year in the play-offs against Wrexham when we won - it was a sell-out and the noise levels were exceptional yesterday.
"I think it was obviously an exciting draw when it came out, these are the sorts of clubs in the future that our fans dearly want to see back at Kenilworth Road so it was a brilliant day."