Smalling happy to stay injury-free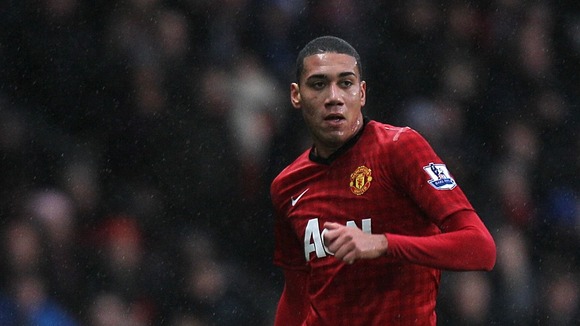 Chris Smalling is delighted to be back in the rhythm with Manchester United after overcoming his injury troubles.
England defender Smalling was ruled out of the European Championships due to a groin problem he suffered in United's penultimate game of last season, and then picked up a foot injury which further delayed his return to action.
He finally made his comeback for the Red Devils in November and is pleased with how things have gone so far.
"I feel good," Smalling said. "I've been able to play a few games now and it's just a case of keeping that going.
"The more games you have the more you get into a rhythm and the more confident you feel.
"I just want to stay injury-free now and hopefully go on a good run; there are lots of important matches coming up.
"It's been one of the worst (injury setbacks) I've had. It's never easy to miss the start of the season and then come back into it, but I'm fortunate that I've started to get back into the team.
"The main thing you focus on when you get back is getting into a rhythm.
"You've missed out while everyone has been playing and doing well so it makes you focus harder to get yourself back to being better than you were before."
United were top of the Barclays Premier League when the 23-year-old made his return and remain there now, currently seven points clear, ahead of Sunday's encounter with Liverpool at Old Trafford.
With the north-west pair being the two most successful clubs in the history of English football, clashes between them have traditionally been major fixtures in the season calendar.
Liverpool have not featured in the title race for the last few years, though, and at the moment the gap between them in eighth place and Sir Alex Ferguson's league leaders is 21 points.
However, as far as veteran United midfielder Paul Scholes is concerned, the rivalry between the two sides remains fierce.
Asked where Liverpool presently feature among the Red Devils' biggest rivalries, Scholes told Inside United: "I think it was the top one for quite some while.
"Liverpool probably haven't done as well as they'd have liked over the last few years - and they'd probably admit that.
"But it's definitely still right up there, it'll always be right up there."
While it has been Manchester City - the reigning champions - and Chelsea battling United for the league title in recent campaigns, Scholes has no doubt Liverpool "historically are our biggest rivals".
He said: "Whether Manchester City have overtaken Liverpool now (as United's biggest rivals), I don't know... it'll probably take years for City to create what Liverpool have done.
"But Liverpool historically are our biggest rivals, they're always the biggest games and the best atmospheres. But I'm sure City will run them close."
A year has now passed since Scholes made his own return to the United team having come out of retirement, and the 38-year-old is certainly satisfied it was the right decision.
"I just wanted to come back playing, and I'm glad I did," Scholes said.
"At the time there were a lot of injuries and I thought maybe I could help, so I tried to.
"The second half of last season I played quite often. Unfortunately we just fell short of winning the league; that was disappointing, but I'm glad I came back."
United's latest title bid has been fuelled by the goals of striker Robin van Persie, who has netted 20 times in all competitions for them since joining from Arsenal in August.
The Dutchman, voted United's player of the month for December after scoring five goals in their six league games over the period, has been keen to thank Red Devils fans for the support they have given him.
"It's always nice to be recognised by the fans," Van Persie told manutd.com.
"I have settled into the club quite quickly and I am really enjoying playing in this team. I would like to thank the fans for all their support.
"It's not all about scoring goals, but obviously that does help. It's great that so many players have scored goals over the season so far.
"December is always a difficult month and I feel we have come through this period as we wanted to and hopefully we can now push on for the rest of the season."
Meanwhile, United today announced a three-and-a-half year partnership with Indonesian tyre manufacturer Multistrada.