Tottenham striker Emmanuel Adebayor set for Africa Cup of Nations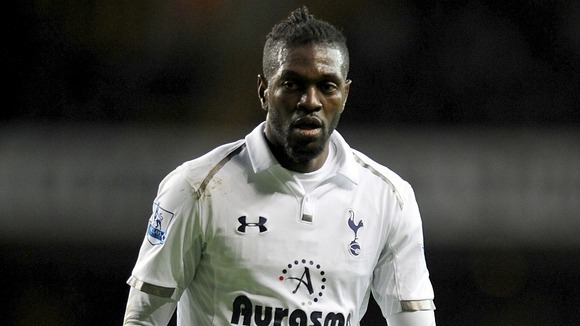 Tottenham Hotspur's Emmanuel Adebayor will be in the Togo squad at this year's Africa Cup of Nations, it has been announced.
Adebayor claims he is yet to receive assurances from Andre Villas-Boas that he is fine with the striker playing in the tournament.
The Spurs striker has now been called up to the Togo squad for the tournament, and is set to travel to South Africa after their game against Sunderland at the weekend.
Adebayor had initially refused to play in the African Nations Cup due to a row over team security and unpaid bonuses, but following talks with the country's president the Tottenham striker now has his heart set on taking part in the tournament.
Adebayor informed Spurs boss Villas-Boas and chairman Daniel Levy that he wants to play in South Africa - a decision that will leave Tottenham without his services for up to four games.The Londoners hope the striker will delay his departure until after Saturday's game at QPR.
Villas-Boas has always insisted when asked about the situation that he would be happy to let Adebayor go to the tournament despite the fact that it would leave him with only one recognised striker in Jermain Defoe.
Yet Adebayor hinted in an interview with africatopsports.com - published on the Togo Football Federation's website - that despite Villas-Boas' public declaration of support, the Portuguese may not be happy with the 28-year-old's participation in the tournament.
"That is what he said to the press, but not what he said to me," Adebayor said.
"There is a difference between what you say to the press and what you say in private."
Togo head coach Didier Six must submit his squad for the cup by midnight and Adebayor is keen to be on it despite initial fears he had raised over the team being subjected to a similar attack to the one that took place in 2010 in Angola.
Three people, including the Togo's assistant coach, were killed when terrorists ambushed the team's coach. Adebayor hid under a seat and survived the attack.
Togo's president Faure Gnassingbe appears to have allayed Adebayor's fears about another attack on the team later this month.
"I have met the head of state on two occasions. We talked, I told him what was wrong with Togolese football," Adebayor said.
"He must, at all costs, find solutions. We discussed it and he guaranteed that he will take charge of everything.
"If you ask me the question of whether I will go to the African Nations Cup, it is still 'yes and no' because I have a club. I have to go and announce to them the decision that I have taken, and then I will return to the national team."
Adebayor added: "As I have already said, I will discuss it with the president, Daniel Levy, and then I will return. No worries.
"In 2010 I wanted to go to the African Nations Cup to win and you saw all that happened, how that turned out. I hope this time will be better for me, for my team-mates, for all of Togo."
Should Adebayor take part in the competition, Spurs may look to sign a new striker. The north London club have been heavily linked with a move for Internacional forward Leandro Damiao, although the Brazilian's agent yesterday claimed the club had received no fresh bids for the player.