Ferguson hopes for controversy-free Liverpool clash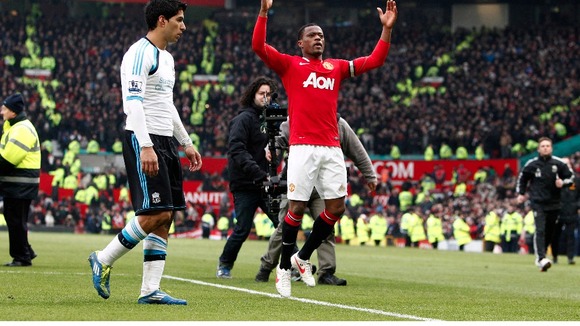 Manchester United manager Sir Alex Ferguson is hoping his side's Premier League clash with Liverpool passes off without incident.
Sunday's game will be the first time United have faced their north-west rivals at Old Trafford since Luis Suarez refused to shake Patrice Evra's hand in last season's corresponding fixture.
However, the pair did make their peace at Anfield in September, which Ferguson hopes will be a sign of things to come.
"There will always be a certain build-up to a Manchester United-Liverpool game, simply because of the history between the two clubs, the two most successful in the country," Ferguson told Inside United.
"It brings its own agenda in terms of profile and pre-match discussion.
"Last year it was unfortunate with the Suarez behaviour. I think hopefully it is behind both clubs now and we can just look forward to the game."
United have won nine of their last 10 league games to lie seven points ahead of champions Manchester City at the top of the table, but Liverpool have won five of their last seven to climb up to eighth.
City are also in action on Sunday with a trip to the Emirates Stadium to take on sixth-placed Arsenal.
However, Roberto Mancini's side will not have a full complement of fans cheering them on after City returned 912 unsold tickets, priced at £62, to Arsenal.
The Football Supporters' Federation (FSF) has called on top-flight clubs to pass on the benefit of next season's bumper new TV deal to fans by reducing ticket prices.
The FSF claims it is unfair that clubs such as Arsenal should charge away fans from the top clubs one figure, and those from less high-profile clubs half as much - Stoke fans will only have to pay £35.50.
The weekend's action gets under way at lunchtime on Saturday with Tottenham travelling to London rivals QPR in a game that will be Emmanuel Adebayor's last before playing for Togo at the African Nations Cup.
Adebayor has finally decided to play in the tournament, which runs between January 19 and February 10, after receiving assurances from Togo president Faure Gnassingbe about team security at the tournament.
The 28-year-old was on the Togo team bus that was ambushed by armed gunmen at the 2010 tournament in Angola.
"In 2010 I wanted to go to the African Nations Cup to win and you all saw what happened, how that turned out," Adebayor said.
"I hope this time will be better for me, for my team-mates, for all of Togo."
Elsewhere on Saturday, Wigan will be looking to climb out of the relegation zone with a win at Fulham, while Aston Villa - beaten 3-1 by League Two Bradford in the first leg of their Capital One Cup semi-final in midweek - face Southampton at Villa Park.
Swansea, who beat Chelsea 2-0 at Stamford Bridge in the first leg of the other semi, travel to high-flying Everton, while Norwich are at home to struggling Newcastle and Reading face West Brom.
Chelsea travel to the Britannia Stadium to take on Stoke, while Sunderland face West Ham at the Stadium of Light.