Aston Villa miss Petrov massively - Lambert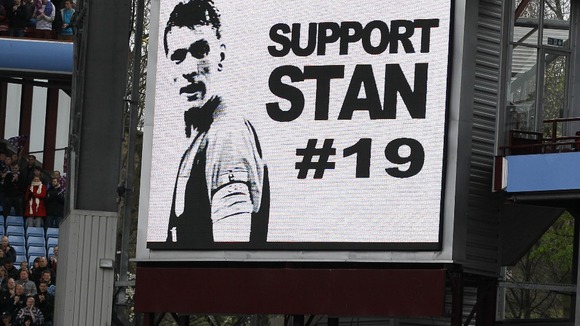 Aston Villa manager Paul Lambert admits the absence of leukaemia victim Stiliyan Petrov has been a "huge loss" for the midlands club.
But Lambert concedes he does not have the £6million paid to Celtic for Petrov's signature six years ago to bring in any potential replacement and will have to "box clever" in the transfer window.
Petrov is currently in remission as he battles to overcome the illness which first became public nine months ago.
Lambert knows making a recovery health-wise is the priority for his former team-mate and close friend from their time together at Parkhead.
But he acknowledges how Villa have missed the presence in midfield of Petrov.
Lambert said: "You know something, I was with Stiliyan last night. The loss of him to this club has been more than people can imagine.
"The loss of him has been huge. His health is the most important thing. I was with him for a few hours last night, and that puts everything in perspective, hearing what he was saying.
"He's a top character. Even when he comes in here now, he's full of energy. He's a major loss to this club, major.
"We need those type of people in the dressing room. Whether young or not, you take that responsibility on yourself and you have to be loud in there."
When asked if he now has the kind of money to spend on a player that Petrov cost Villa, Lambert said: "It's probably fair say we've not got that.
"That type of player costs money so you have to box clever.
"A lot of things get dominated by finance. Petrov cost £6million and the value of him to this club was incredible, the way he performed and the way he is as a guy.
"I know him because I played with him for eight years at Celtic so I know what type of a young guy he was."
Lambert added: "We need some strength in the side, especially in the middle of the pitch (midfield and defence), we need a bit of strength.
"The injuries we've had to people like Ron Vlaar have been too long. Richard Dunne has been out as well all season. We need to try and address that.
"We're trying to do something at this minute. We need to try and do something in this window. We have to try."
Villa owner Randy Lerner has continually offered financial support to a string of managers and two years ago spent a club record £24 million on Darren Bent to stave off the threat of relegation.
But Lambert concedes that fans are in dreamland when expecting a player of the quality of Joleon Lescott or Scott Parker to be signed because of the finance that would be involved.
"Are fans in dreamland (regarding Lescott and Parker)? Yes, money, I think that's the reality of it. We can't do it."
One option would be for Lambert to off-load any players he thinks are surplus to his requirements.
But he said: "You can't do nothing if the phone doesn't go. It's not something where you pick up the phone to someone and say he's for sale or he's for sale.
"You don't do that. If a phone call comes in, then you deal with it."
Meanwhile, Lambert confirmed that winger Marc Albrighton could be out of action for up to two months with the broken metatarsal suffered against Ipswich in last weekend's FA Cup tie.
He said: "Marc has broken his metatarsal. It could be another eight weeks or so that he is out."