Chelsea fans will love Fernando Torres again - Benitez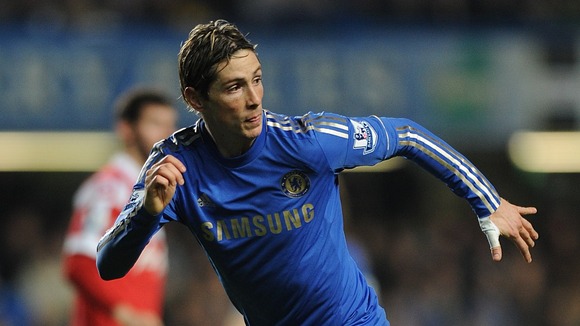 Rafael Benitez predicts Chelsea's fans will fall back in love with Fernando Torres again.
Torres was hailed as the club's saviour when he arrived at Stamford Bridge two years ago for a whopping £50million fee, but he has struggled to live up to even the most mild expectations.
Part of the reason behind Benitez's appointment as Blues interim boss was to get the striker back to his best, but despite a slight improvement, Torres still looks a shadow of the hitman who tore the best defences in Europe apart while at Anfield.
Chelsea's fans had been patient with Torres up until Wednesday night, when he was sarcastically applauded off after 81 minutes following a poor display in which he touched the ball just 19 times and barely threatened the Swansea goal.
Benitez, who revealed today that illness had prompted Torres' poor performance, still thinks the former Atletico Madrid hitman can win the Blues faithful round, though.
"The fans loved Torres when he was scoring and giving everything," Benitez told a press conference.
"They will love him again when he starts scoring goals again. They will appreciate the effort."
Chelsea's supporters had called for the introduction of Ba, who scored twice on debut at Southampton last Saturday, for almost the entire second half on Wednesday, but he did not come on until nine minutes were left.
Benitez revealed today he had delayed bringing Ba on as he was struggling with a hamstring injury. The Spaniard also confirmed Torres had been struggling with a stomach bug prior to kick-off, which explains his poor showing against the Swans.
"He (Torres) had a bug, a virus and needed tablets from the club doctor," Benitez said.
"The other day he was sick on the bench (at Southampton). That was why he didn't play.
"He is feeling better now but he had the problem for a week or more. He was trying (against Swansea).
"He was there and making an effort just in case. Fernando concentrated on trying to do his job (despite his illness) and that is the sign of a great character."
Given Benitez's history with Liverpool, the 52-year-old was never going to get an easy ride from the Blues fans.
Yet the level of jeering towards Benitez, and the club's hierarchy for refusing to offer Frank Lampard a new deal, remains strong seven weeks into his reign.
The former Liverpool manager, who has also had to deal with constant speculation he will be replaced by Pep Guardiola when his contract expires in the summer, admits he is not a fan of the cat-calling from the stands.
"I would prefer them to support the manager and the players. But that's the way it is," he said.
"I remember Petr Cech saying he can't listen to anything. The (players) just concentrate on the game."
Some reports claimed the defeat to Swansea has accelerated Roman Abramovich's desire to appoint Guardiola in June, but Benitez insists he has not been affected by the speculation.
"I don't think about that," he said. "I signed a contract here and have to do my best to improve the team.
"When I finished the game (on Wednesday) I went straight to the dressing room, as I have for the last 25 years, and I was then thinking about the injuries, the problems we had and our next game against Stoke.
"Yesterday I stayed late to watch the Under-21s play. I will try to win and do my best for the team and the club.
"I am enjoying it."
One crumb of comfort for Benitez is that he now has captain John Terry available after a two-month absence.
The 32-year-old played 45 minutes of the club's under-21 game against Fulham yesterday and is in the squad for tomorrow's game at the Britannia Stadium, although he is likely to start on the bench.
"He has been training today and he is in the squad," Benitez said.
"He can't start yet but he's available.
"It's always important to have someone who has character at any time. He is an important player for us."
The other bit of good news emerging from the treatment room is that Petr Cech could feature tomorrow after making good progress with his recovery from a groin problem.