Manchester United wanted Van Persie badly - Sir Alex Ferguson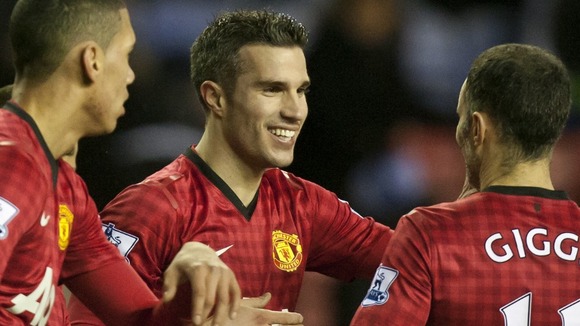 Sir Alex Ferguson has claimed Robin van Persie turned down Manchester City's advances long before Manchester United secured the signing that could win them the Premier League title.
Van Persie's presence at Old Trafford has been the subject of irritation to City boss Roberto Mancini, who placed the Dutchman at the top of his list of transfer targets last summer, only to lose out to his biggest rivals.
Mancini blamed Blues' former director of football Brian Marwood for the failure, believing Van Persie could have been acquired if City had moved quicker.
Ferguson does not believe that is the case.
In fact, when United made their move, he felt Juventus were the biggest threat.
"He (Van Persie) told me himself that he turned them down," said Ferguson.
"Juventus made a massive offer to the boy. I thought they were our biggest threat. But fortunately he signed for us."
After years of speaking about value and youth, Ferguson spent £24million on a player edging towards 30, with only a year left on his contract and a dubious injury record.
To an outsider, it seemed like a gamble.
To Ferguson it was anything but.
"It was a lot of money for a player in the last year of his contract," said the Scot.
"But the thing about it is - as it proved with Manchester City the year before when they paid £24million for Samir Nasri - you either want him or you don't.
"You have to pay the price that the club are sticking out for, whether it is one year on his contract, two or three.
"We wanted him badly, so we were prepared to go the extra mile."
The rewards have been startling.
Van Persie's 20th goal of the season saved United's FA Cup hopes at West Ham on Saturday.
Four days earlier he netted twice at Wigan in a victory that kept the Red Devils seven points ahead of City in the Premier League title race, part of a current run of nine goals in nine games.
"I expected his signing would be important for us," said Ferguson. "I really did.
"Any player coming to us for the first year, you never know for sure.
"Who would have thought Wayne Rooney would have got a hat-trick on his debut? It is fairytale stuff.
"But what we did know was that we were signing a very good player."
And the stamp of class came with his goal at Upton Park, a remarkable effort to earn a replay on Wednesday, which Ferguson feels will be a contender for goal of the season.
"There were three parts to that goal that were outstanding," said Ferguson.
"Ryan Giggs' half-volley pass, diagonal and right over the shoulder of the defender, Van Persie's first touch, not just the control but the way he took it away from the defender to allow him to have a quick shot, and then the shot. The three parts were brilliant."
It is just one of the reasons why Van Persie is a hot favourite to emulate Cristiano Ronaldo by winning back-to-back PFA Player of the Year awards.
And why Arsene Wenger knew he was he was releasing the man who could win the title when he gave in to Ferguson's cajoling and sold him Van Persie last summer,
"It was a very professional phone call (from Ferguson) and there was more than one. I will tell you the rest another day," said Wenger, whose side host City on Sunday.
"You know when you sell Robin van Persie to Manchester United, that (United lead the league) will be the case.
"He is one of the best strikers in the world and you know he will score goals for them.
"He is at the peak of his game. He has a high level of confidence in his qualities.
"He is more patient today than he was five or six years ago. Sometimes in games you don't see him for 20 minutes, but he knows he will get a chance at some stage and that he will use it.
"Before he always came back in midfield, but now he stays there and uses his killer instinct much better."