Dzeko happy to atone for penalty miss at the Emirates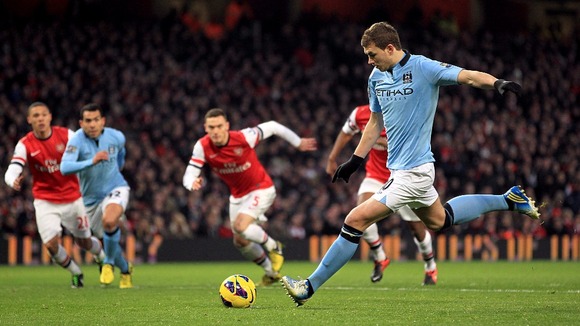 Edin Dzeko had no doubt he would recover from his missed penalty during Manchester City`s 2-0 win at Arsenal.
The Bosnian was brought down by home defender Laurent Koscielny as early as the eighth minute, with the last-man tackle earning the Frenchman a red card.
Dzeko was unable to convert the subsequent penalty but responded well, tapping in from close range to make it 2-0 after James Milner had given City the lead.
"I don`t know if it was a red card but it was a penalty," Dzeko told Sky Sports 1.
"I didnt score but I knew I was going to score after. I said to myselfyou have missed but are playing well`. I knew I would score when I had the chance."
With Sergio Aguero injured, Dzeko has stepped up from the bench and is City`s leading scorer this season.
"It`s very important for me to play some games. I have started four in a row now and have scored four," he said. "I am happy but the team is important."
One black spot for City was the late sending off of captain Vincent Kompany for a two-footed tackle on Jack Wilshere.
"It`s hard to say if it was the right decision at that pace," said Milner. "I would have to see it again.
"But this is a tough place to come. We`ve not had much success in the past, we needed to put that right and did."
Visiting boss Roberto Mancini outlined his plans to appeal Kompany`s red card, regardless of the fact an unsuccessful appeal could see a three-match ban turned into a four-game absence.
"This is not a red card, absolutely not," he said.
"He has one foot in and takes the ball. I think the referee made a mistake."
The Italian did concede that his sides task had been made easier by Koscielnys dismissal, but praised his men for finding a way through regardless.
"If you play 10 players, it can be difficult," he said.
"We started the game very well, played high up and pressed. We wanted to win this.
"It was easier after the sending off but in the second half we were too soft and missed three or four goals."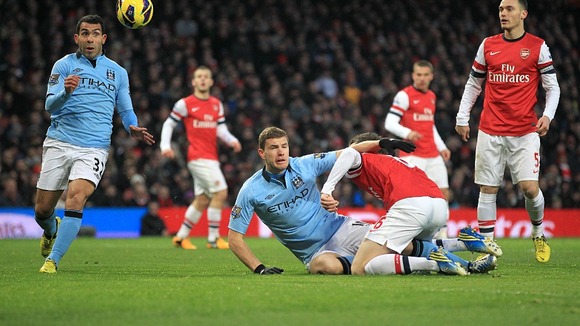 Arsenal boss Arsene Wenger refused to blame the early red card for his side`s demise, instead telling his players they had not done what they should have done after going a man down.
"It was frustrating (to go down to 10 men) but we got away with it (with the penalty miss)," he said.
"We were down to 10 men with 80 minutes to go and knew it would be a difficult game.
"But we were too timid and did not have enough authority on the game. We let them dictate the game to us and when we went 1-0 down it was difficult."
Wenger added on Koscielnys sending off: "Ive not seen it. I was surprised but I have heard it was a penalty. We have to live with the decision but it doesn`t mean we have to lose the game.
"We gave away two cheap goals. At 10 men you keep it 0-0 and you never know."
On Kompany`s red card he said: "It looked as though they were both playing the ball to me."