The sad demise of Michael Johnson
by Will Unwin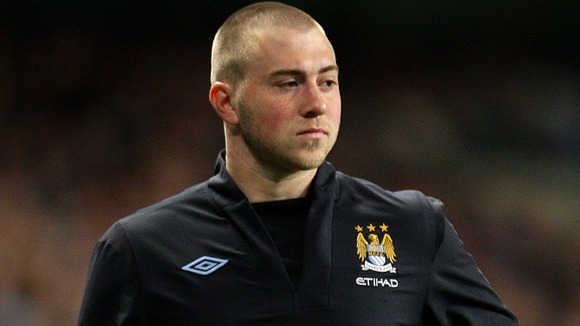 Michael Johnson was supposed to be an England international and one of Manchester City's leading lights by now. Instead he is without a club at the age of 24, and looks like a man who has fallen out of love with football.
When he was just 18, Johnson broke into the City team under Stuart Pearce, and became one of the bright sparks in an otherwise mediocre side.
His talent stood out straight away; he was an athlete who could get from box to box with impressive speed, and his technique put him above his more experienced team-mates in terms of quality.
By the time he starred in a 1-0 win over Derby early in Sven Goran Eriksson's reign at Eastlands - a performance which brought him firmly to the nation's attention - he was already an established City regular.
The wiry midfielder broke from the halfway line, beat two men, played a one-two with Elano on the edge of the area, before curling the ball with the outside of his right boot into the top corner. A star was born.
Having made his mark in the Premier League Johnson had the world at his feet, but almost as rapidly his career went downhill.
He suffered an abdominal injury, forcing him to miss a lot of the 2007-08 season. Though seemingly chunkier on his return to fitness, many initially saw this as the natural physical development of a young footballer.
Away from the pitch, however, things didn't seem to be going well. By now a household name, he was easily recognisable in Manchester, and would be frequently spotted out in the lower-grade clubs in the city, clutching a bottle of beer, when he was theoretically recovering from injury.
Team-mates of Johnson at City say he was never seen as a troublemaker, and believed to be a decent guy within a dressing room of far more serious partygoers.
Still, the Urmston-born midfielder failed to regain his place in the City line-up under Mark Hughes, after a double hernia kept out for an entire season. Johnson's final appearance at Eastlands came under the Welshman in September 2009 in a League Cup game against Scunthorpe. He was just 21.
Hughes' successor Roberto Mancini never got to see a fully fit Johnson and had little time for the antics of a man who looked like he was giving up on the fight for a top-flight career, as injury and an unprofessional attitude seemingly took hold.
Johnson was despatched to Leicester in an attempt to get him back on a professional football pitch in 2011. Former City boss Eriksson was in charge of him for a second time, but once the East Midlands club dispensed with him, Johnson was quick to follow after just nine appearances on loan.
Since then, Johnson has crashed - both literally and metaphorically - having been charged twice with drink-driving, including one incident in which his car was involved in an accident, as he moved further and further away from getting back on the pitch.
The club released him before Christmas, despite his deal running until the end of the season, but were forced into confirming this fact after an image of Johnson looking more like a darts player than a footballer was released on the internet.
Johnson wasn't completely the architect of his own downfall, with injuries taking some of the blame, but his demons have certainly brought him a disappointing end to a potentially bright career.