Nigeria striker Emmanuel Emenike: Manchester City want to sign me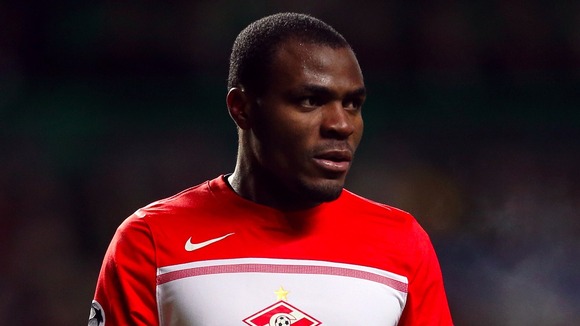 Spartak Moscow and Nigeria international striker Emmanuel Emenike says champions of England Manchester City have enquired about his signature.
The 25-year-old, who has impressed in the Russian league with a record of a goal every other game over the last two years, has been linked with a move to Turkish side Fenerbahce in this transfer window.
But Emenike, currently in South Africa ahead of Nigeria's Africa Cup of Nations campaign, has told Turkish Radio Sport that City have cast admiring glances his way.
"I belong to Spartak and everything's fine there," he said. "If Fenerbahce agrees a transfer with Spartak we'll discuss that option."
"Which other clubs are interested in me? Manchester City. This is a big, well-known club, but there's no sense in discussing this as long as I am contracted to Spartak."
The hulking striker, who has five international caps, has proven a hit in Russia - but has also been at the centre of some controversy.
Emenike was red-carded in farcical circumstances during a game against Zenit St Petersburg last May, after the match referee interpreted his goal celebration as an insulting gesture aimed towards the Zenit fans.
Video: Emenike sent off for 'insulting gesture'
The player was also the subject of a legal investigation by the Turkish authorities for his alleged role in the country's match-fixing scandal in 2011.
Emenike was suspected of complicity in fixing a match involving Fenerbahce and his then club, Karabukspor, which the striker missed through injury.
Fenerbahce won the game, and eventually the Turkish League title, but were stripped of the trophy after being found guilty of widespread match-fixing and malpractice.
Having appeared in court in Turkey throughout 2012, Emenike has a potential three-year jail term hanging over him should he be found guilty.