Lambert: Next three games vital for Villa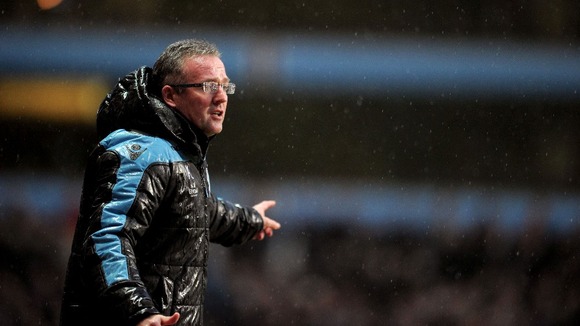 Aston Villa manager Paul Lambert admits the next week is "huge" for the midlands club as they strive to steer clear of relegation trouble and maintain their pursuit of a cup double.
Third-from-bottom Villa will be looking to end a run of five league games without a win when they visit West Brom for a Barclays Premier League derby this evening.
They then entertain Bradford in the second leg of the Capital One Cup semi-final on Tuesday before travelling to Millwall for next Friday's FA Cup fourth round tie.
Lambert said: "It's a huge week, absolutely massive. I don't think you can underestimate the next three games.
"They're absolutely vital to the club.
"The derby is vital and we know what they means to the fans. It's important for both teams because we have been beaten in a couple of games and West Brom the same.
"We have a massive semi-final and we know we have to turn it around from the first leg.
"Then there is the FA Cup on Friday. They are three crucial games. But we will give it our best shot in all of them."
Lambert is driven by a determination to transform Villa's fortunes after three years of being involved in relegation battles.
He said: "I'll make mistakes, loads of them. I am not good enough to think everything is going to fall in my lap and be great.
"You always question yourself in terms of doing the right things and the wrong things.
"What keeps me going is the determination to succeed. What people say or write, I don't take any notice of at all."
Lambert will only sign players he thinks can enhance the current club during the remainder of the transfer window.
But the Villa manager is adamant any newcomers will have to improve the current squad.
Lambert said: "We'd try to do something if I thought the people we could get in would make it better.
"But, if we can't do it and I have to go with the group that's there, then I'll go with what's there.
"What I don't want to do is fill the place with people I'm bringing in just for the sake of bringing them in.
"It's the wrong thing to do for this club. It's wrong if they're no better than the ones who are already here.
"I have to bring in people I think will make a major impact."
Villa skipper and defender Ron Vlaar is set to return after seven weeks out of action with a calf injury.