Newcastle complete Mapou Yanga-Mbiwa signing from Montpellier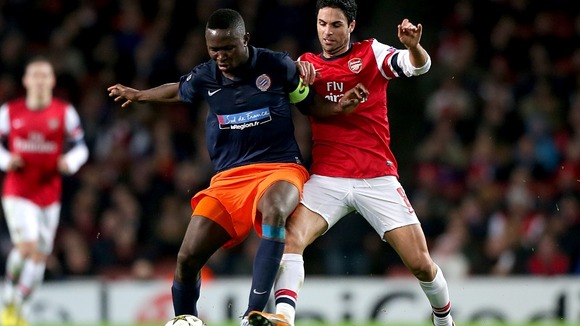 Newcastle have completed the signing of Mapou Yanga-Mbiwa from Montpellier, according to the French club.
A statement on Montpellier's official website confirmed the 23-year-old defender's transfer to Tyneside for a reported fee of £7million.
"Mapou Yanga-Mbiwa played his 219th and final game for Montpellier on Saturday afternoon," the statement read.
"On Tuesday the French international, 23, joined English club Newcastle, currently 16th in the Premier League, subject to a medical."
The statement added: "Mapou Yanga-Mbiwa will leave a huge void at Montpellier, where he became one of the leaders and crown jewels of our squad. The whole club wishes him the best of luck for the rest of his career."
Yanga-Mbiwa also gave an interview to the mhscfoot.com in which he expressed his gratitude to Montpellier, whom he joined as a youth trainee in 2005.
"This is my second family," the three-times capped France international said. "I was welcomed with open arms, the club has given me everything. Montpellier will remain unforgettable for me, I don't know what else to say."
"It's strange to say that it's over, that I won't be seeing [my team-mates any more], that I won't be seeing my family any longer," he added.
But Yanga-Mbiwa also made clear he was looking forward to the challenge at Newcastle, and to life in general in England.
"It's something I had hoped for, now it's for me to discover," he said.
"It's a country where everyone loves football, everyone lives for football, everyone wants to play with a ball. I really want to discover this culture. I hope it'll work out."