Macclesfield manager Steve King is living the FA Cup dream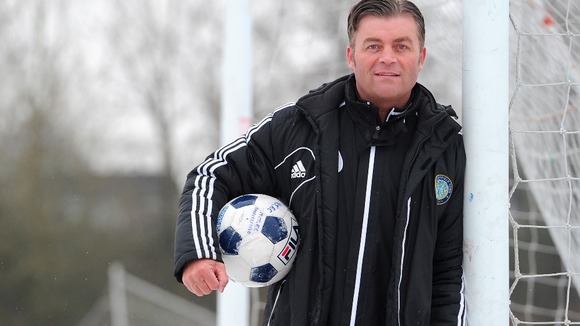 Macclesfield manager Steve King is still having to pinch himself to believe his history makers are on the brink of a place in the FA Cup fifth round.
King arrived at Moss Rose in the summer, amid general disenchantment, at a club that had just been relegated from the Football League knowing he was not the man the locals wanted to guide them back.
Slowly he has turned opinion round, partly through a refreshing brand of football, but also because of a cup run the like of which has never been seen in these parts before.
In 139 years, Macclesfield had never been beyond the third round.
King took just six months to break the record.
"It is surreal," he said.
"I have followed the FA Cup all my life.
"To be part of the last 32, with the opportunity to create an upset is unreal. It has taken the club 139 years to get to this point. We did it in six months.
"I had the FA Cup in my house this week, the trophy I have seen all the stars lifting. You have to pinch yourself really."
King's issue with the locals was nothing personal.
But when attention turned to the next Macclesfield manager and club legend Steve Burr was on the wanted list, the supporters did not want anyone else.
Talks took place without resolution, so the Town board turned to King, who had earned an impressive reputation sweeping Lewes through the non-league pyramid.
"I wasn't wanted here. I know that. I wasn't local and they would have preferred someone else," he said.
"But I hope I have changed their minds. Maybe from 100% being against me, it is now 60-40 in my favour.
"The thing is, I knew what I could bring. I would like to think we brought a freedom and a smile to people's faces."
It was no minor commitment on King's part.
With four children, it was not possible for his entire family to move north, condemning him to a weekly 1,000 mile driving stint just to make sure he sees everyone.
His reward will come in having everyone around for the greatest day of his career, when Macclesfield tackle Wigan in a game that repeats a fixture in the very first Northern Premier League almost half a century ago.
It is the one King would have chosen himself.
"I wanted to play Wigan because for a Premier League star to turn up here and have 6,000 spectators virtually standing on their backs is going to be a culture shock," he said.
"Not only that, Roberto Martinez is my style of manager.
"He plays the kind of football I like. He won't compromise no matter what, which is just the same as me.
"It is nice to be up against someone like that."
Macclesfield have suffered one unwanted setback in the build-up as goalkeeper Lance Cronin has been ruled out with a broken thumb, forcing King into an emergency loan to get Joe Anyon from Shrewsbury.