Bundesliga round-up: Paolo Coelho inspires win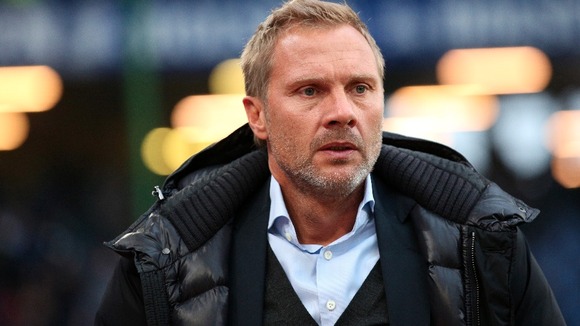 After all the excitement last week surrounding Pep Guardiola's summer switch to Bavaria, it looked for a while as though surprises would have to come off the field this weekend as well: Dortmund strolled to victory over Nürnberg on Friday, and Champions League hopefuls Freiburg and Leverkusen played out a tight 0-0 draw on Saturday evening. Thankfully, a feisty Nordderby between Hamburg and Werder Bremen lit the Bundesliga touchpaper on Sunday. It was the 50th match between the two sides for Werder's head coach Thomas Schaaf, who has been at the club in one capacity or another for an incredible 40 of his 51 years on earth, but whose position looks more precarious than ever after his team lost out 3-2. Hamburg boss Thorsten Fink hadn't beaten Bremen in 13 years as player and manager, and took the unusual step of reading aloud from Brazilian author Paolo Coelho's Like the Flowing River pre-match: "It's about giving your all. I wanted to try something different," he stated, with the self-confidence of a man who's been proved justified.
Luck, however, likely played as important a role as motivational readings: two of HSV's three goals could have been ruled out (for handball and offside), and Bremen ended the match with nine men. Captain Clemens Fritz can have few complaints, but bad boy Marko Arnautovic may feel his reputation preceded him, as after being booked he pulled his foot back as if to blast the ball at referee Thorsten Kinhöfer, and even though Arnautovic changed his mind, the arbiter showed him a second yellow regardless.
All in all, the home side's win was deserved, despite a far from vintage performance. "That's how I know I'm getting old – I can't get down as quickly anymore," quipped Hamburg's 28-year-old goalkeeper René Adler, who was at fault for Werder's second on Sunday. He can afford to joke however, as it was probably the first error of the campaign from HSV's stand out performer this season.
As ever, deals are being done as the end of the transfer window edges nearer. Hannover made headlines by signing Brazilian Franca as an imposing defensive midfielder – on the understanding he was 7 cm taller than he really is – while Wolfsburg sporting director Klaus Allofs has continued his post-Christmas squad-slimming measures by sending serial shinpad-botherer Emanuel Pogatetz to West Ham on loan for the rest of the season, with an option to buy. Former Middlesbrough centre back Pogatetz hasn't featured under new coach Dieter Hecking, who suffered his first defeat at the club against Hannover on Saturday. Michel Bastos is expected to move to Schalke on an 18-month loan from Lyon, while the Veltins-Arena club have agreed a €1.75 million price with Tottenham to take midfielder Lewis Holtby to White Hart Lane immediately. Holtby might now be wishing he'd picked Fink's Hamburg instead: the 22-year-old has a Paolo Coelho quotation tattooed on his right arm.