Athletic Bilbao's Fernando Amorebieta heading out of the San Mames door
by Will Unwin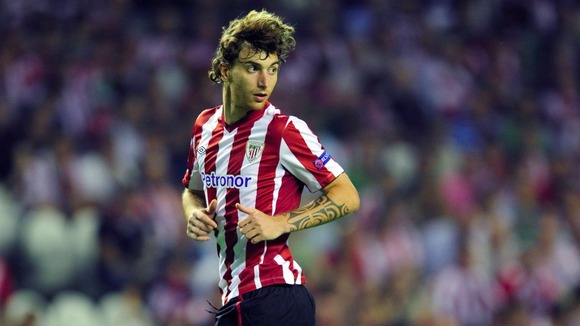 Venezuelan international Fernando Amorebieta looks set to depart Athletic Bilbao in the summer when his contract runs out, and will inevitably become a target for Premier League sides.
In a similar manner to team-mate Fernando Llorente, the defender has allowed his deal with the Basque club to expire, permitting him to exit in the summer for free.
On his day £5million-rated Amorebieta can be one of the best defenders in the La Liga. But he's no stranger to a horrendous foul, a fact which has explains why, at just 27, he has the worst disciplinary record in the history of Spanish football.
Physicality is part of the modern game, but Amorebieta repeatedly takes it needlessly to the next level. In his career, he has been sent off on 11 occasions in the domestic league.
Recklessness is the key issue, diving into tackles minutes late. In addition to delaying his arrival at the ball, Amorebieta is liable to take the easy road, and foul players cynically rather than take the more sensible action of chasing them or legitimately challenging them.
Leo Messi would confirm that Amorebieta is dirtier than Bilbao's grittiest tapas bar, after he was studded in the face by the defender during a clash at the San Mames.
There is, however, another side to his game, and Amorebieta can occasionally serve up the kind of sublime performance that prevents top quality strikers from getting a sniff. When on the ball, he has the ability to pick out a 40-yard pass, and his competence in the air makes him a threat at set-pieces, even if his lowly five career goals says differently. But this side of his game rarely outweighs his poor decision making, which can cost goals and dismissals.
Indeed, it is a sign of his stagnation as a footballer that when his contract does expire, his probable destinations would be either Everton or Norwich in the Premier League, or Russian outfits Rubin Kazan and Zenit St Petersburg.
In 2009, when Rafa Benitez was Liverpool manager, he repeatedly scouted the defender - then valued at £10million - hoping to lure him to England and teach him the art of tackling, as opposed to his more robust approach.
Amorebieta, however, has proven incorrigible, seemingly more intent on following in Andoni Goikoetxea's footsteps by taking on the nickname 'The Butcher of Bilbao', rather than learning the art of elegant defending.
Unfortunately, however good he might be, most clubs will conclude that a man who is sent off three times a season, missing upwards of ten games, is a luxury they cannot afford.